The white horse enduro was on Sunday and I'd been invited to marshal. I've never held any illusions about my ability regarding an enduro, its something I'd just never do but this was a chance to see one up close. You know it will be interesting when you're told which bike to bring and to put low gearing on it.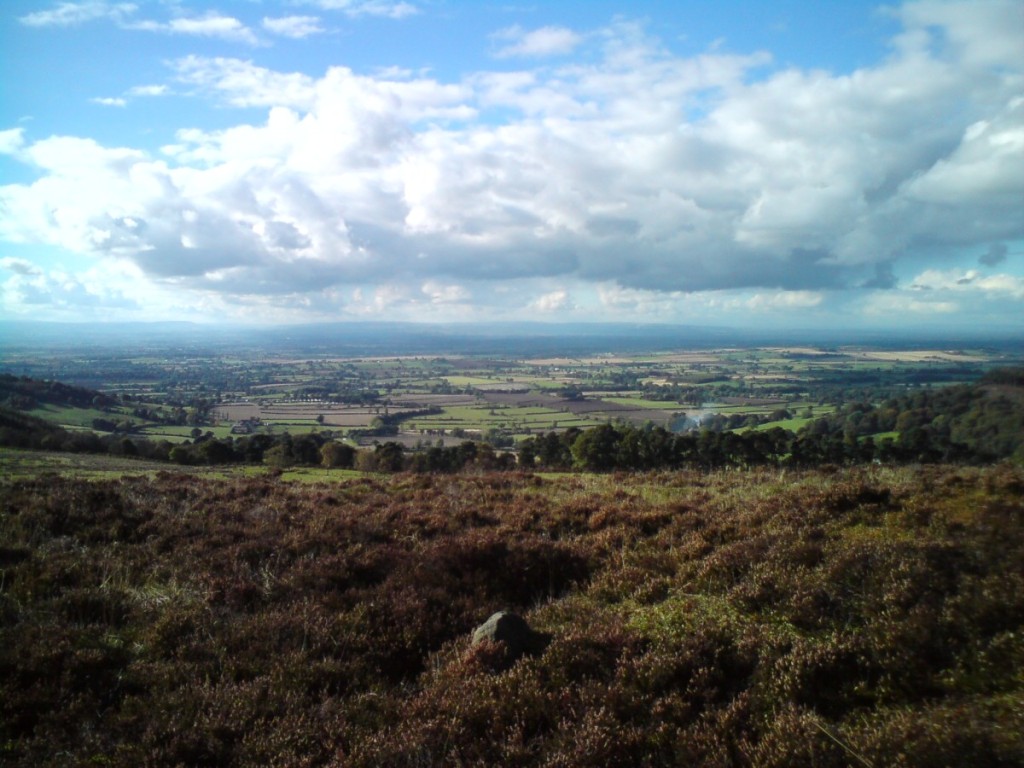 The view from the top of the hillside, one of the few spots with phone signal
The first part of Saturday was spent cutting out forest and marking out bits of course, hammering in road pins, putting up tape, stapling arrows and so on. It was hot work and I was using a heavy branch to smash through deadwood when the club like head on it it snapped and hit me hard in the nose which was the first incident of the day for me. I managed to embarrass myself stalling repeatedly in front of people in one section. Once you're stopped on a slope, its a nightmare to get going again.
Later in the afternoon, after marking out was completed, they needed some course times. A group set out and I decided to tag on the back, at least I could check the marking out. In short order, I'd stalled the bike and they disappeared off into the distance, I never did see them again, several didn't complete the course either. I continued on, coming across some interesting features like a nice decent with a steep, tree rooted climb on the exit to a stream. I gave this a go, mostly made it up but had to help the bike over a root. Later, people pointed out that this was the "expert" route and there was an easier alternative to the right but there was no track going that way visible at this point. This was taken at the stream crossing showing the choice of two routes on the Sunday after the signs had been tweaked: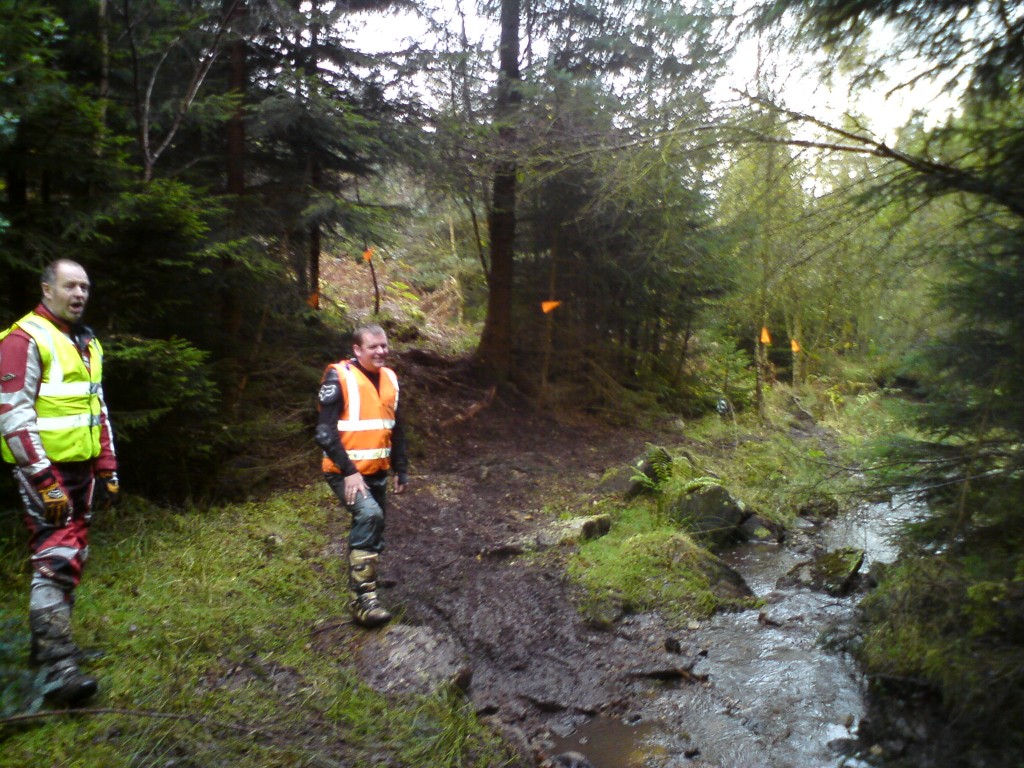 So far the terrain was unknown and full of surprises, I then came to the bits we'd marked out and/or already ridden so this gave some let up. I was taking breaks periodically since otherwise, I was going to get tired and make more mistakes. I made a phone call on the top of the hillside with great views of the valley where there was phone signal. Shortly after than I managed to catch a rut badly, laid the bike down on its side and barrel rolled off it and down an incline. No damage to anything thankfully as I was going slowly. At some point I also ended up upsidedown on an incline with the bike on top of me which was fun. Periodically, there were interesting features like steep drop off sections. Again, apparently there were easier bits but I wasn't understanding the marking of these correctly. In the special test section there was an interesting incline you had to go up which for some reason scared the living daylights out of me. They ended up taking out the crazy downhill then uphill section just after this as even though a few of us had made it around, it was going to cut up too easily with a few bikes around it.
Around this time, someone passed me and we exchanged a few words about me taking it easy and them suggesting "the best bits are to come". I came to the piece of the course I'd been around so far and knew I could head back to the start from here. Since by this point I was suffering exhaustion, the sensible thing to do was to head back. I'd heard stories about having to jump ditches and a dry stone wall but I thought I'd done that part (that seemed easier than they were suggesting). There was definitely some steep hill climbs ahead though. Since I'd likely never do it again, I decided to continue, slowly and carefully. I soon came to the uphill section which was a relentless steep climb for a few hundred meters. Amazingly for me, I did make it to near enough the top without stopping. The bike was trying to stall, bogging down badly and I was determined we were not stopping and its probably one of the few times I've ever found the throttle stop. A decent followed, followed by what looked like more hard hill climbs but the hardest climb turned out to be behind me. A boggy trip through the trees brought me back to the start. I'd taken somewhere over two hours, the clubman time was about an hour. Experts would do four of the 12 mile laps, one was enough for me.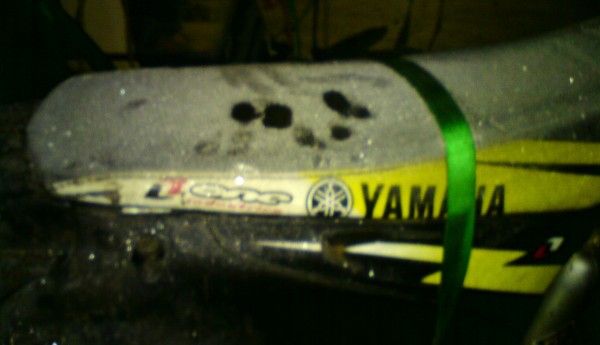 It was an early start on Sunday and I'd left the bike outside the van overnight so it was covered in frost. I had to scrape ice off the van windscreen too.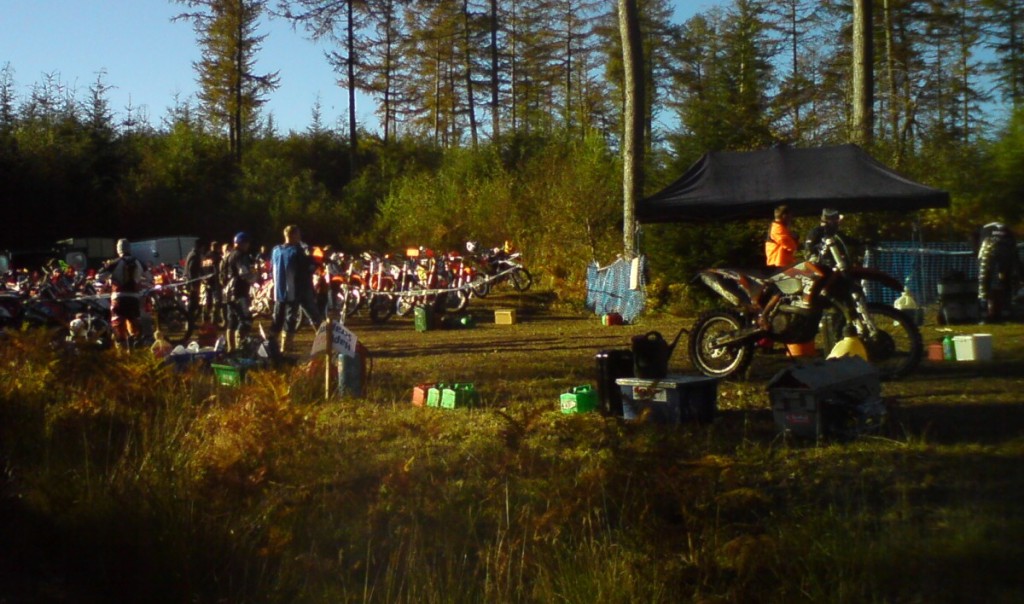 The start area
As a marshal, the idea was to roam around your section making sure everyone was ok, repair the route where possible and generally help out as needed. The section assigned to our group included the downhill section into the stream and another steep downhill section just after it. I did my best to roam around, yet keep out the way of the competitors and help out where needed. We'd also been asked to send people periodically to the starters point to help. I picked a good time to be there under the gazebo for the short downpour we had!
On the steep downhill, I managed to lose my balance on one trip down and ended up "choosing" a head-on collision with a tree into the headlight as the alternatives would have involved clipping the bars against a tree and leaving the bike. As it was, I stopped against the tree, restarted the bike and continued before the marshal behind slid into me (as there was no way he'd have been able to stop and I was conscious of this). Amazingly, there wasn't too much damage as the light itself stayed intact: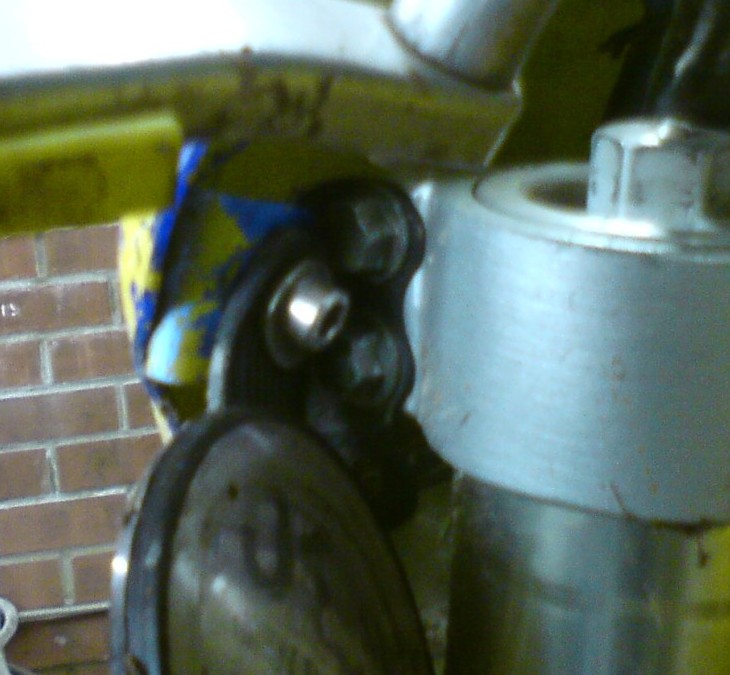 This should be a straight bracket with the tax disc pointing outwards
The day's activities were then complete and it was then time to demark the course and collect in all the arrows and tape. I helped out, ending up at the back of the group with a heavy paperbag filled with collected in material. I was about to set off once again, tried to kick the engine over to start it and found the kick start lever ended up on the ground. The kick start shaft itself had sheared leaving the casing in a mess too 🙁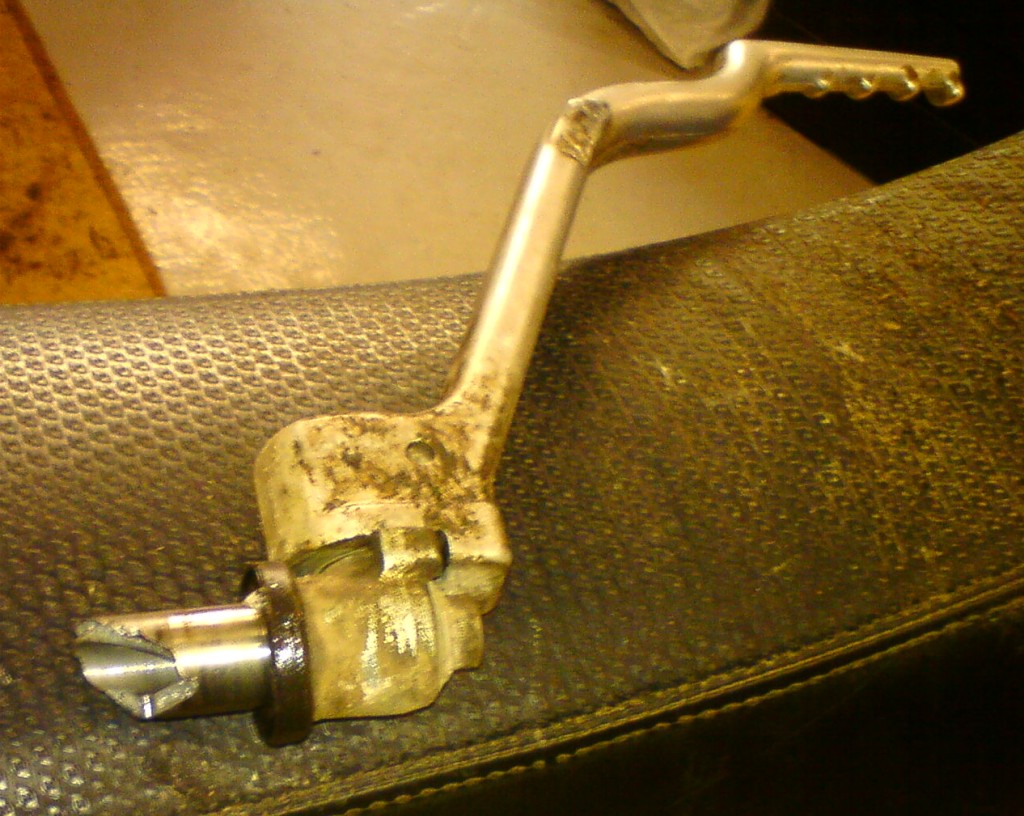 Not how you expect a component to fail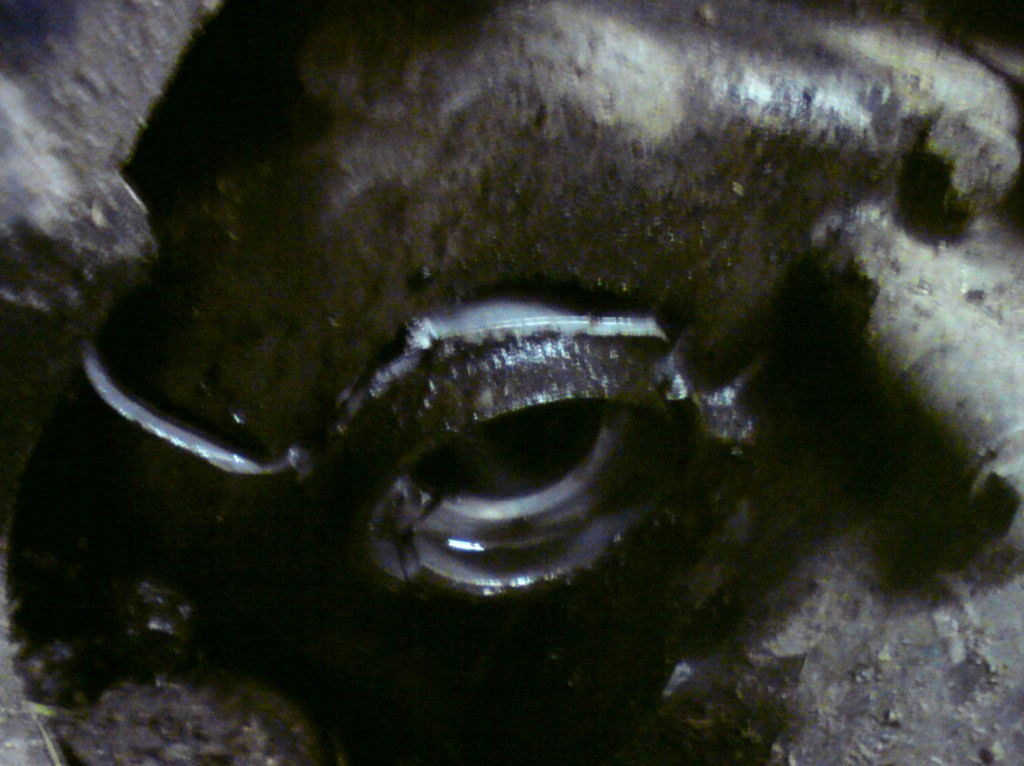 Cracks = Not Good
I waited around but nobody came back far enough to find me although I did hear someone in the distance so I was on my own. No problem, I found a hill, bump started the bike and rode fire roads back to the start. Having a GPS on the bike helped!
It was a good weekend and I enjoyed it. I doubt I'll ever enter an enduro, I think this weekend determined that for sure but I might marshal again if they'll have me back though.