Coast to Coast, in a day, on a motorcycle via Green Lanes (Part 1)
"Coast to Coast" trips from the west to east coast of the UK are fashionable at the moment, be it walking, cycling or otherwise. For me, this weekend's challenge is covering ~250 miles of green lanes by motorcycle, starting on the west coast near Ulverston and ending up near Alnwick on the east side, all in one day. Anyone with a map will notice this is a diagonal crossing, not a straight line and the route itself is even more convoluted to incoropate a good selection of lanes. There is a wide selection of terrain, including some deep fords which anyone reading this blog will know are associated with Alnwick.
All seemed to be going well with perparations, even my complete lack of transport for the bike on the day in question was to be resolved by dropping it off at a collection point in advance when I could borrow a van. I've decided to use the YZ over the CRM despite the CRM being the logical choice (better tank range, oil tank, comfy seat) mainly on fun factor although it also has the better tyres on it. I was about to put the YZ into the van to transport it and thought "I'd better just check it starts". Turning on the fuel lead to a puddle forming under the bike with a continual stream of fuel flowing from the overflow pipes. Hmm, not good.
None of the normal tricks to resolve this helped so it was back into the garage where I removed the carb, along with half the bike or so it seemed after letting the person at the collection point know I'd be "a bit late". I've never dismantled this part of the YZ before but that wasn't going to stop me. There was gunge in the carb and the fuel valve seemed to operate ok with things cleaned up. The floats weren't holed or anything nasty like that and once back together, it started and worked with no fuel leaking. I didn't have any bits left over either which is always good.
So the day arrived and four riders and some helpers all managed to meet up at 2am. The plan was to take two vans and one car over to the est coast carrying seven bikes, six riders and the support crew and we managed to fit the people and bikes into vehicles as planned. We set off with a further two stops to pick up the other riders en-route dropping off a fuel cache at Nic's. By just after 3am we had Neil and were off on the long drive to Ulverstone.
We were surprised to see two cyclists cycling over Hartside at 3:30am, the roads were otherwise quiet and the convoy had an uneventful trip over.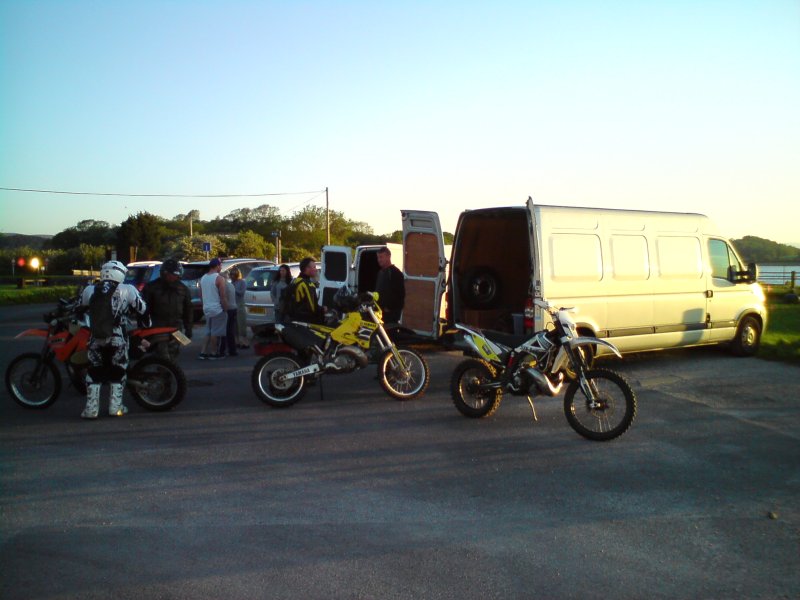 The sun started to rise, we arrived and unloaded with the Irish Sea in the background.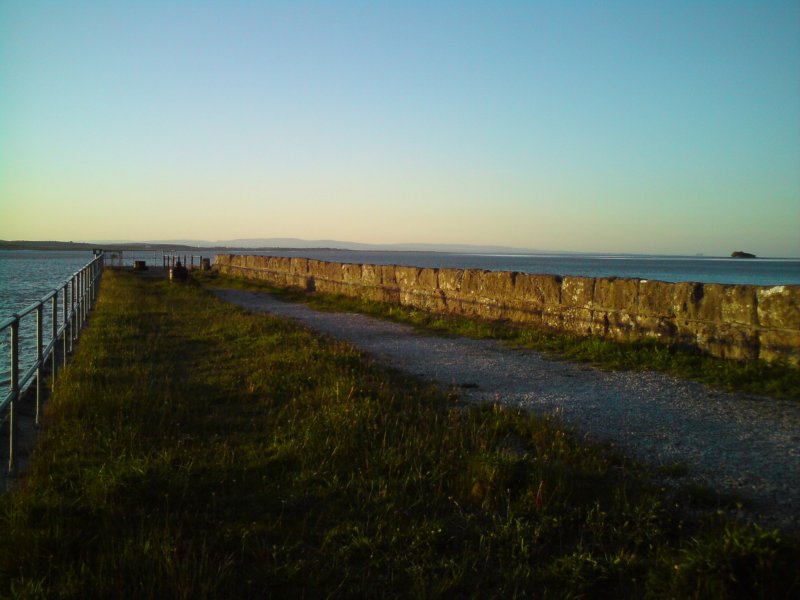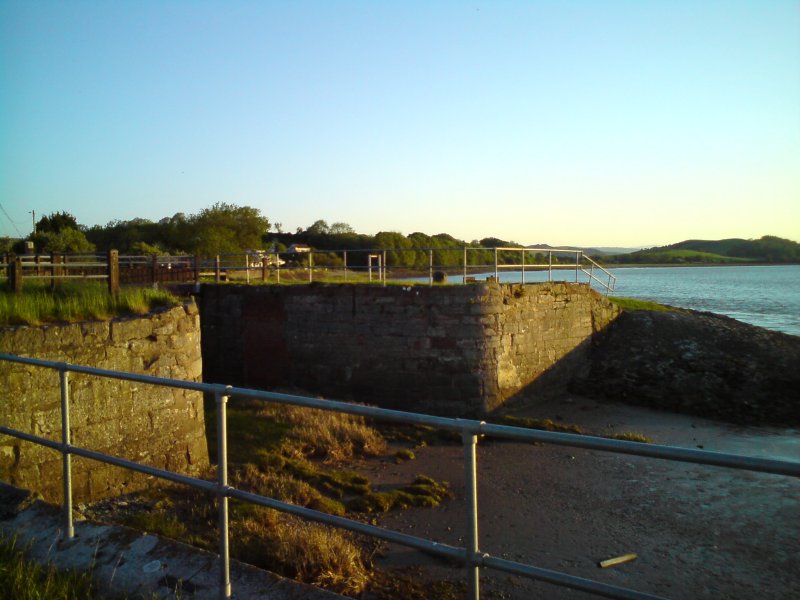 One trouble with trail riding is that it pays only to take things with you that you don't mind dropping in a river. The GPS is a rugged handheld one, quite capable of being submerged, my phone is also waterproof and covered in o-ring seals. The helmet camera itself is also waterproof and capable of small depth underwater use although the recorder is not waterproof at all and lives in a plastic bag.
A lot of this trip was either with rising sun or setting sun and its direction made photographs tricky and the helmet camera was struggling at times. I couldn't stop every 5 minutes to take photos so most of what follows below are stills from the helmet camera. They're not brilliant quality but you have to work with what you've got.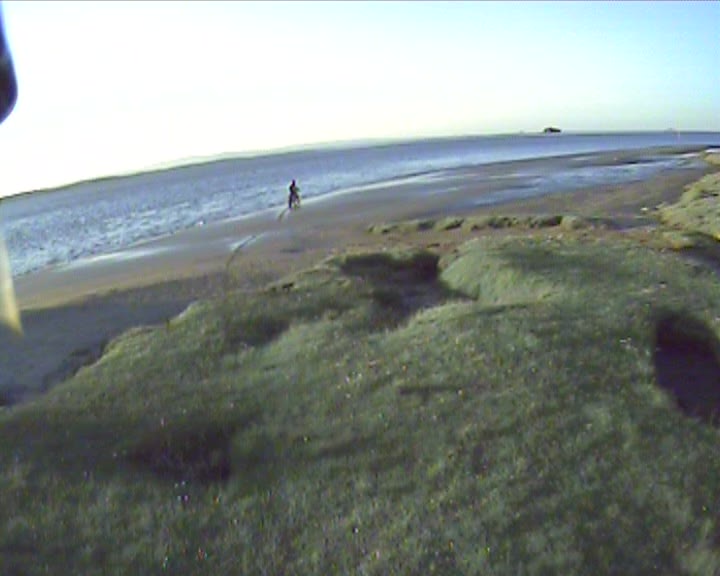 So after a quick loop around the beach, where the tide was in, we set of at 5:30am.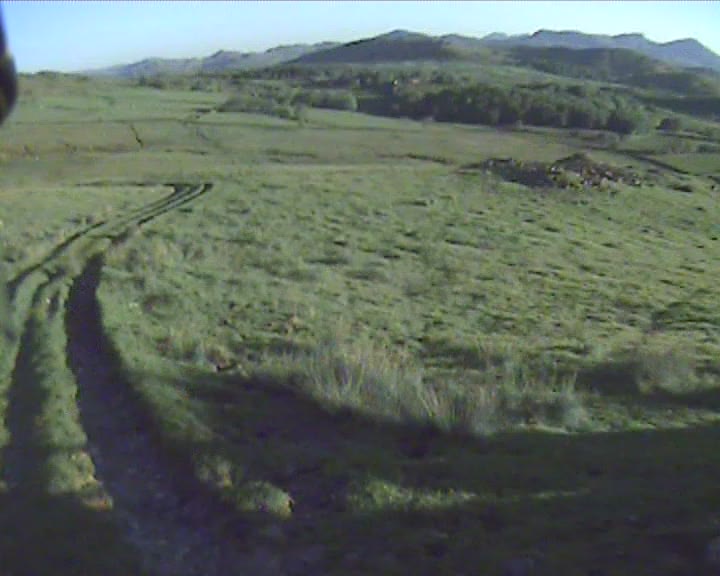 We were soon onto green lanes with the hills in the Lake District looming in the distance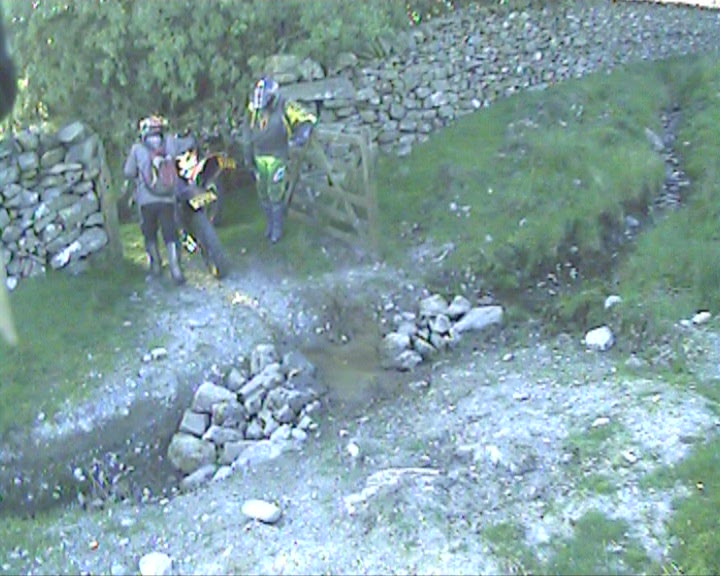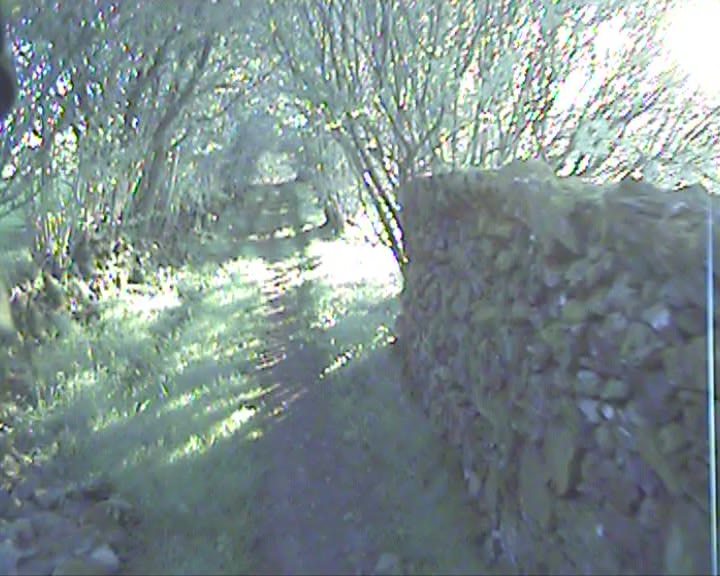 I was quite taken with the second lane we did, it obviously doesn't see that much traffic and was rather picturesque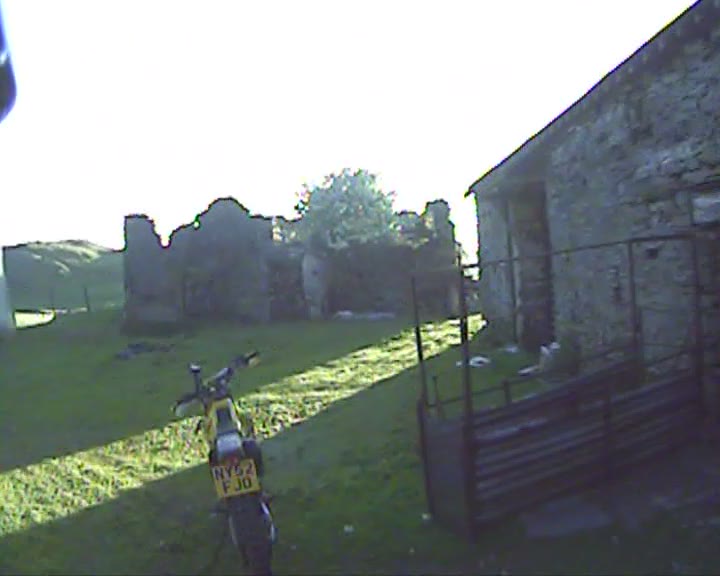 One of the reasons I like trail riding is seeing some of the ruined buildings in the middle of nowhere. You can't help wonder who once lived here, what they once looked like and how things have (or have not) changed.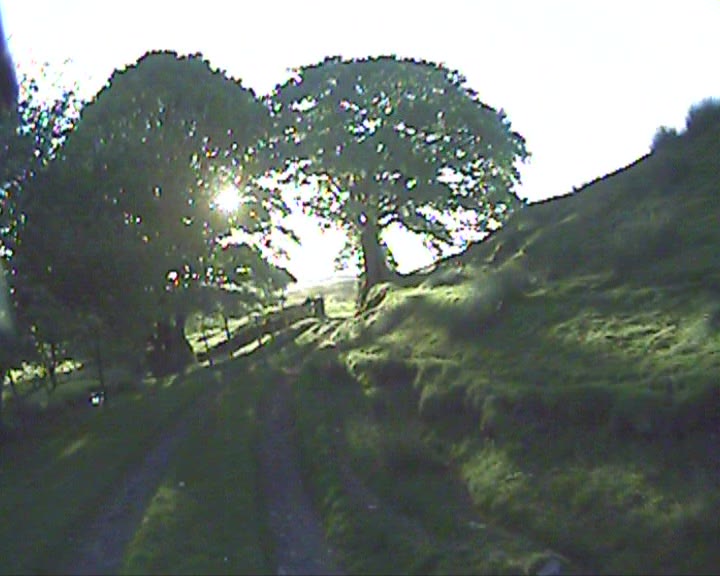 This time of day the landscape is an interesting mixture of highlights and shadows, when the camera wasn't totally blinded by the sun.
Within the first couple of lanes I'd managed to catch my right hand radiator shroud on a gate, it pulled one of the mounting bolts through leading the other two. "It'll be find" I think to myself.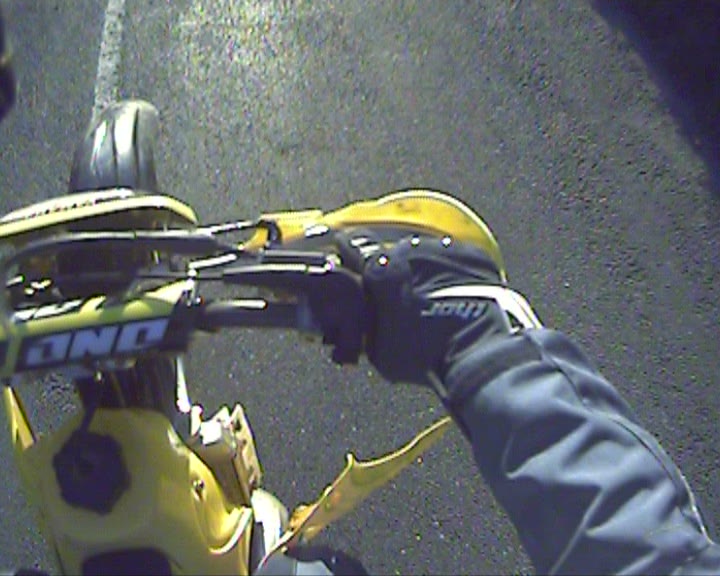 A few miles later, Neil is gesticulating at me. After checking behind and wondering what he meant, I looked down and saw this, we're down to one bolt now and its surprising it can bend like that!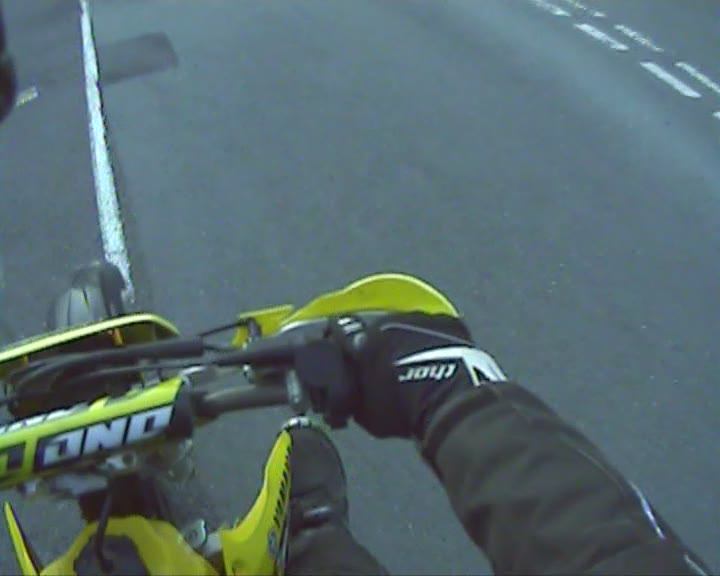 No problem, I can hold it on with my foot all day!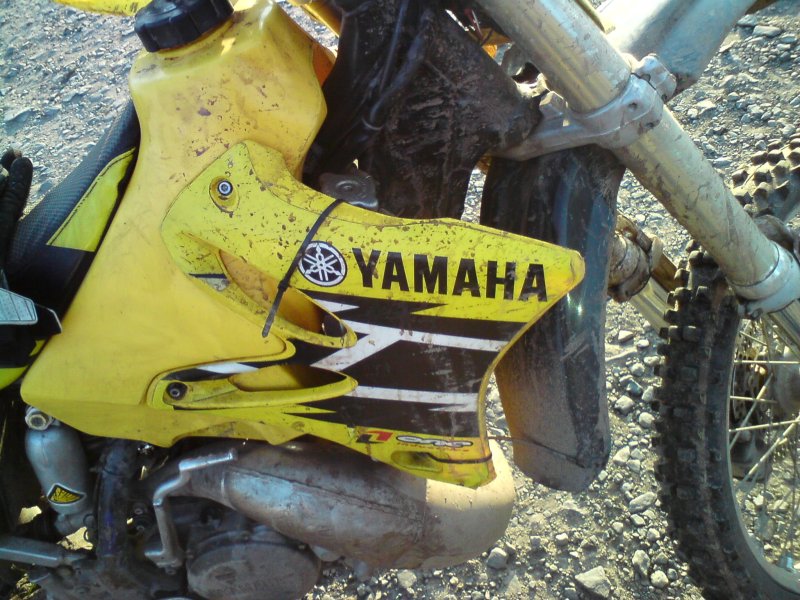 Perhaps that isn't such a good idea, so we stopped for a few seconds and I cable tied it on. Our esteemed leader was not happy1 at having to stop already, sorry Steve!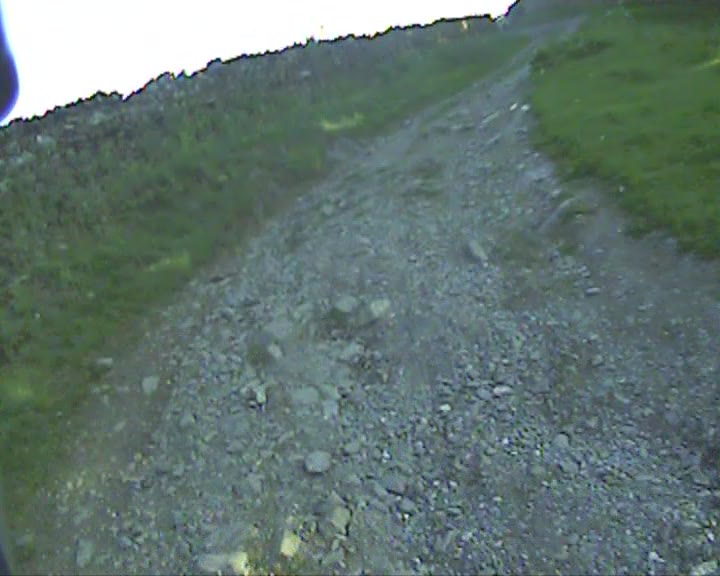 The trails started to get more interesting and more Lake District like, i.e. we started to find hills with rocks.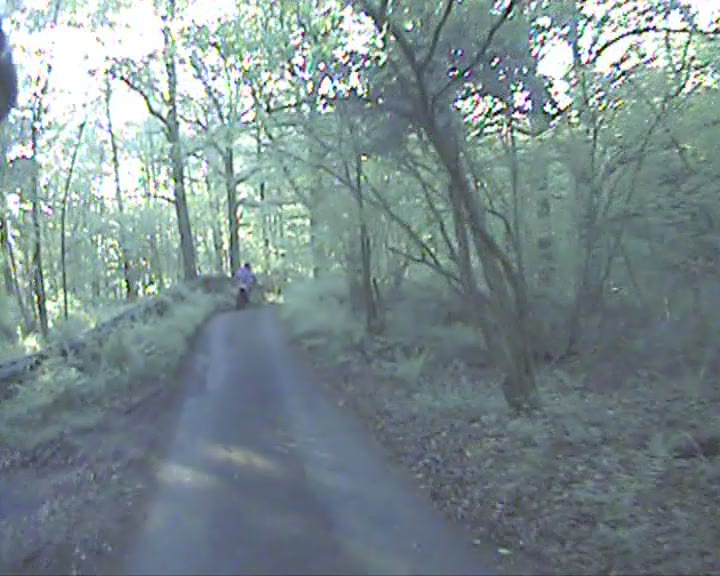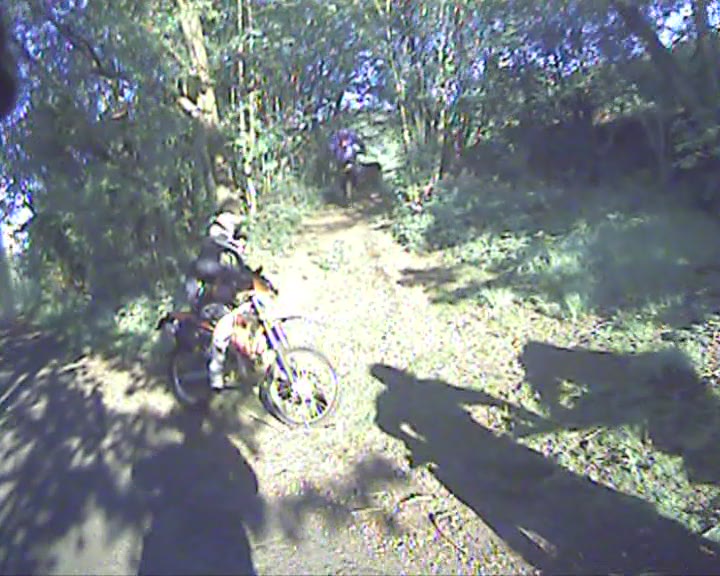 I couldn't resit including this due the menacing shadows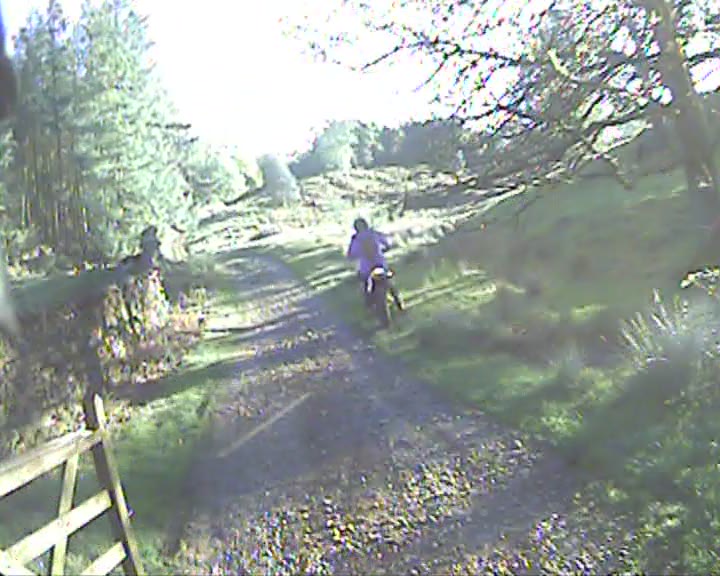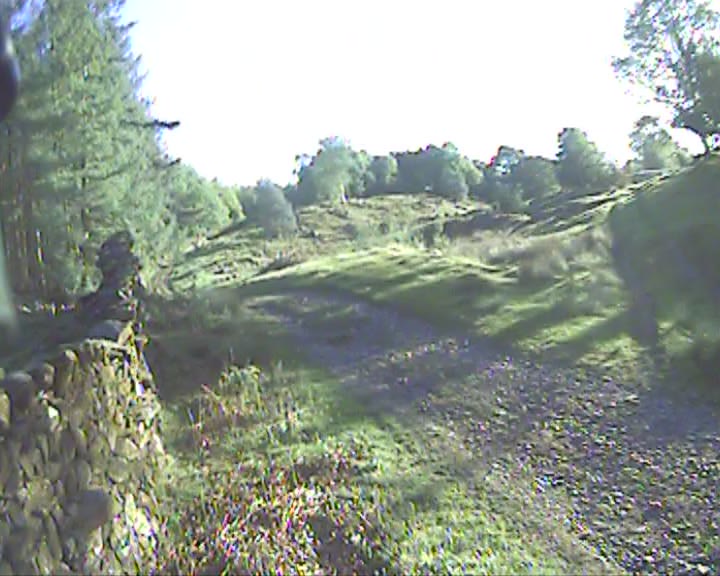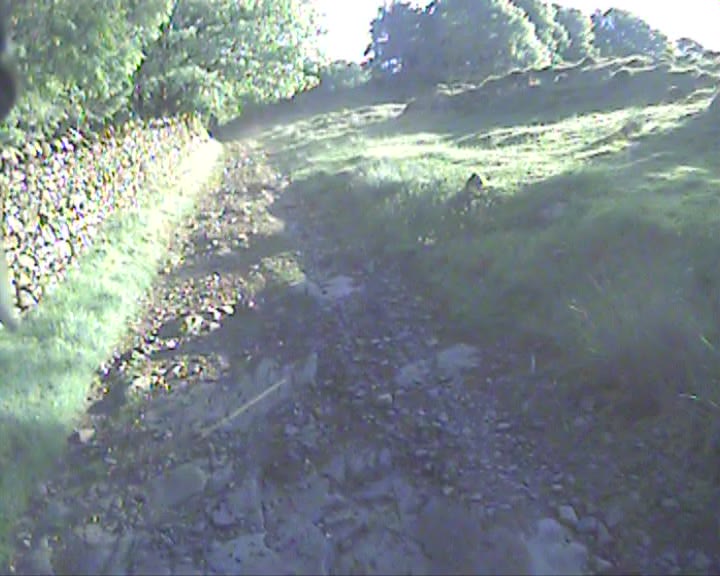 The hillsides are certainly getting more interesting now!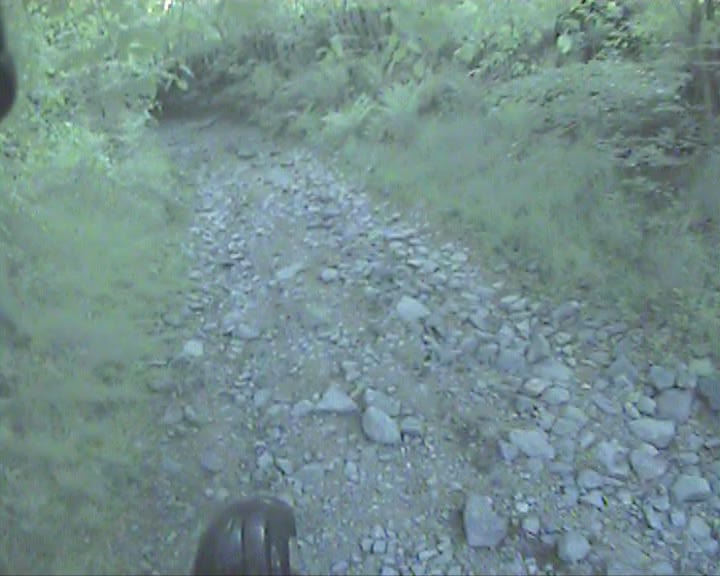 Little rocks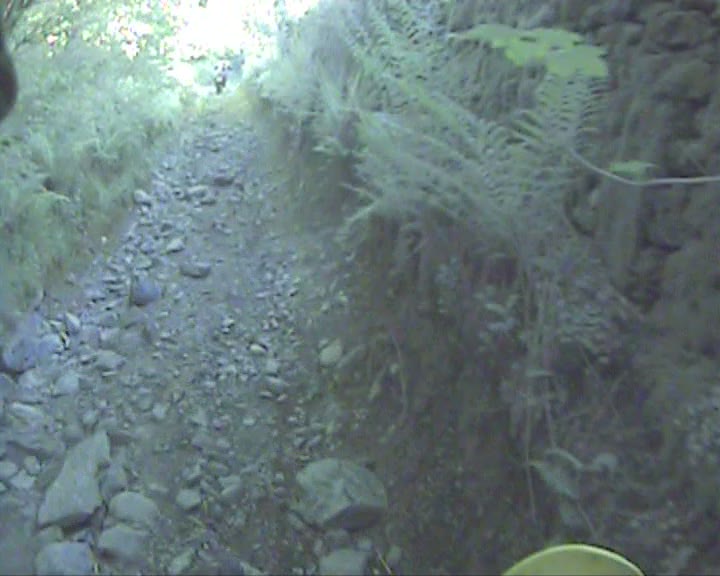 Turning into bigger rocks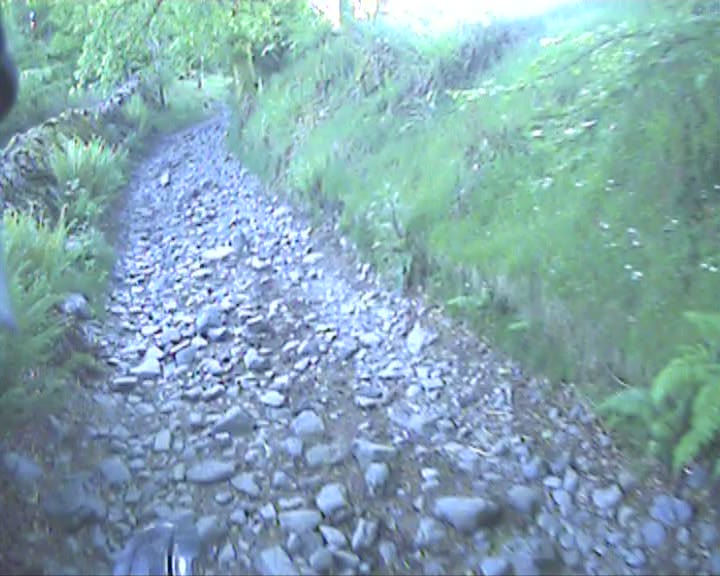 More rocks, at least more evenly spread this time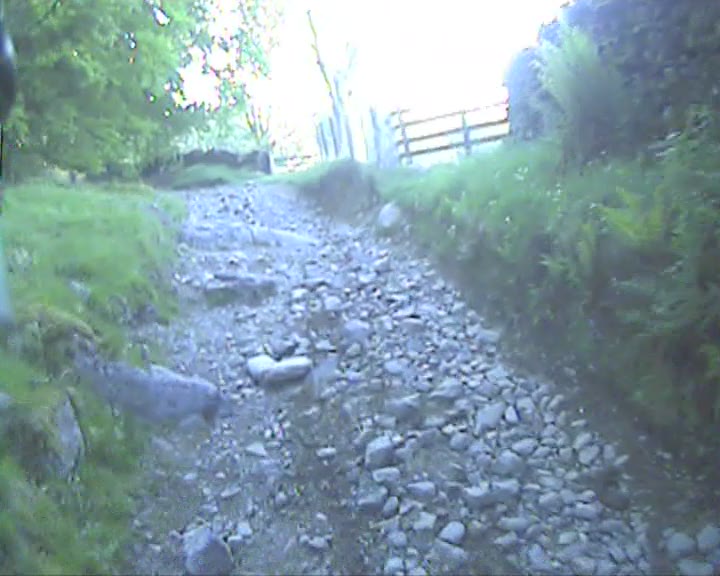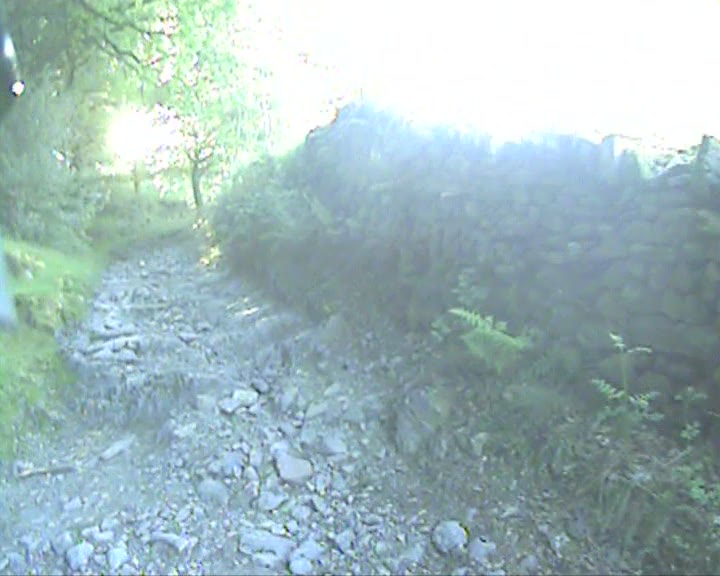 Lumps of hillside becoming part of the road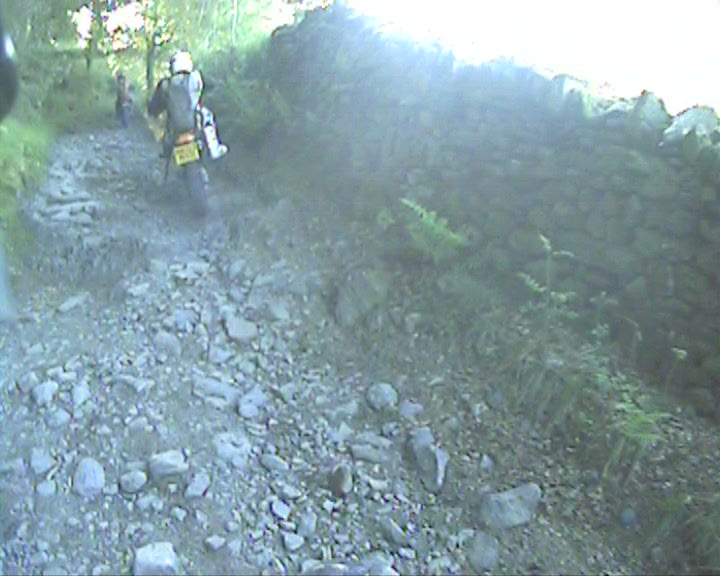 Nick practising his dance moves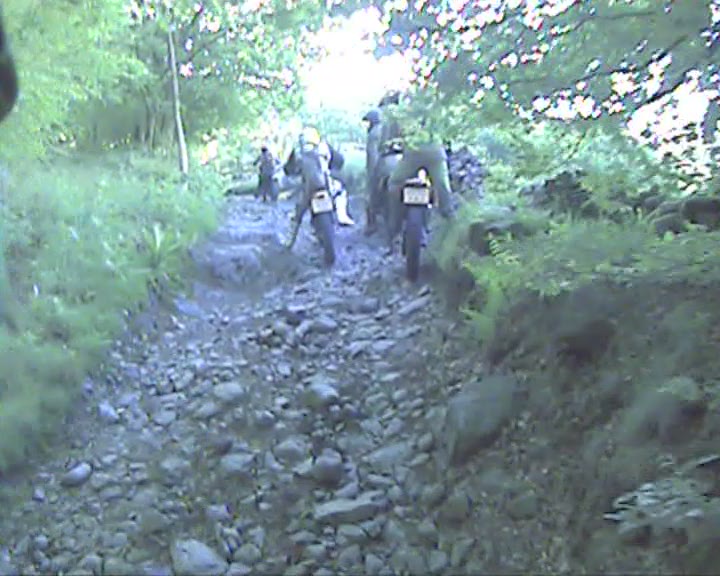 Michael had fallen over here apparently so is parked up, Nick is practising his dance moves again and I'm coming up quickly and don't really want to pile into them.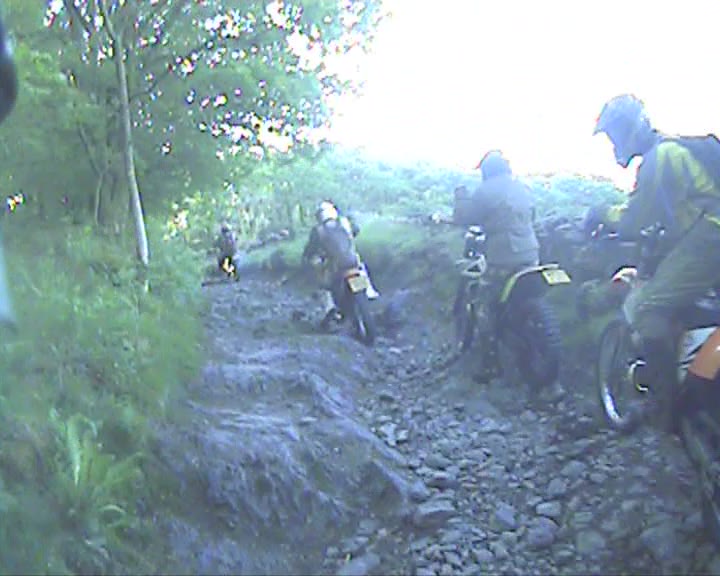 In the absence of other options, lets take those steep looking rocks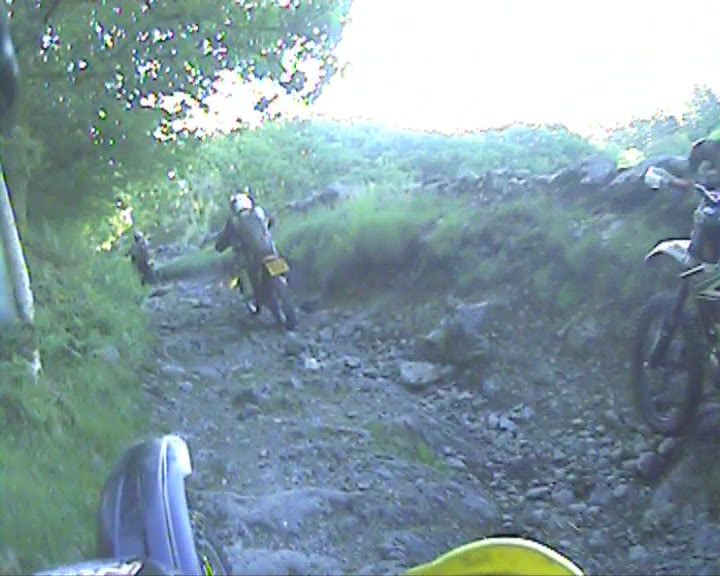 The YZ doing what it does best putting the front wheel in the air. Whilst I made it up those fine, I have to admit I did then stall on the top, probably in surprise that I'd made it. I couldn't kick start it without dropping the back wheel back down the incline, gah!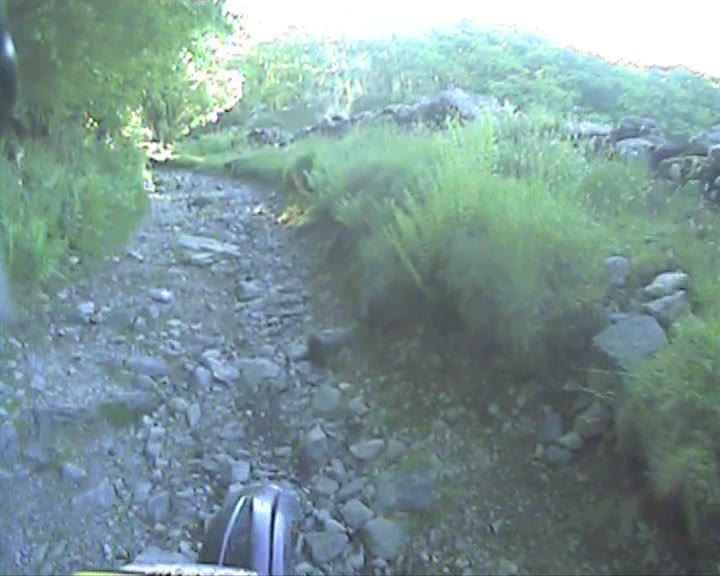 Its hard to pick any route through these that isn't going to give you and the bike a rough ride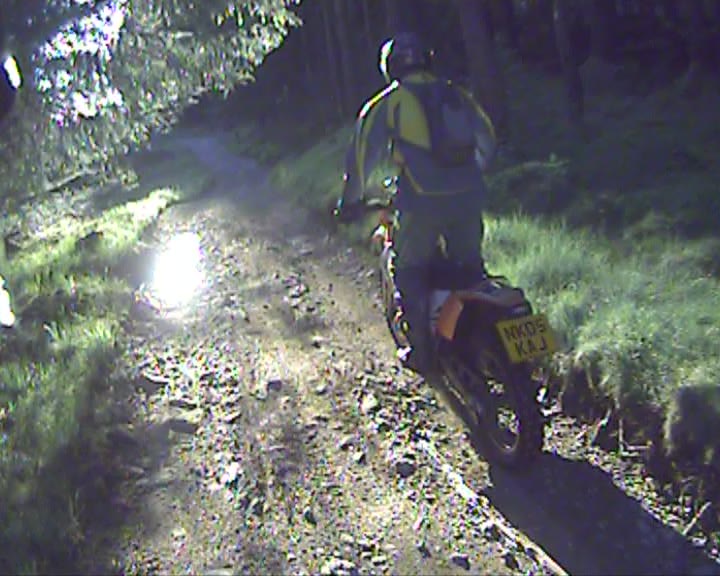 However Neil accelerates past, he's going to show us how its done, quickly disappearing into the distance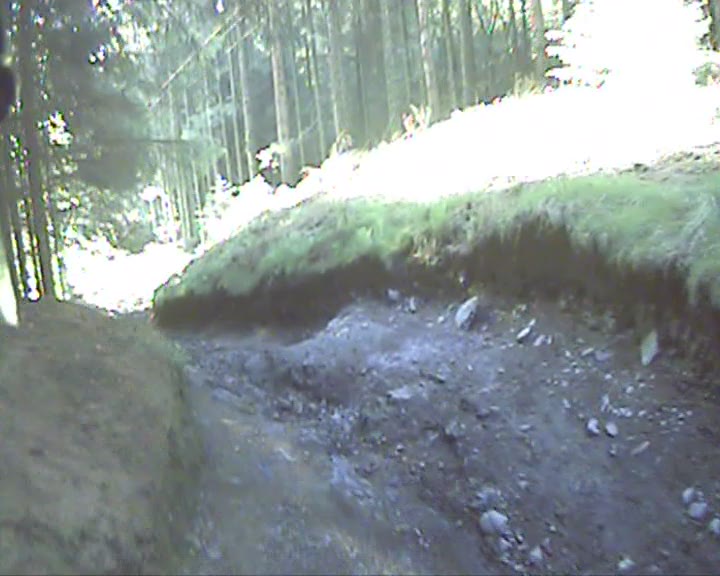 The damage here is water erosion, not vehicle use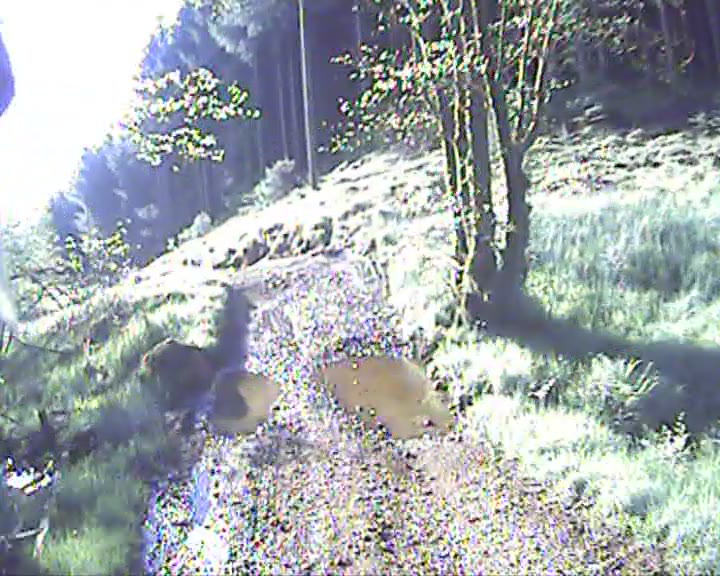 I put this photo in due to the unremarkable looking rock on the left edge of the trail. On a previous trip to the Lake District Chris clipped that with a footpeg going the other way up this trail and broke a rib after ending up in the scenery on the left.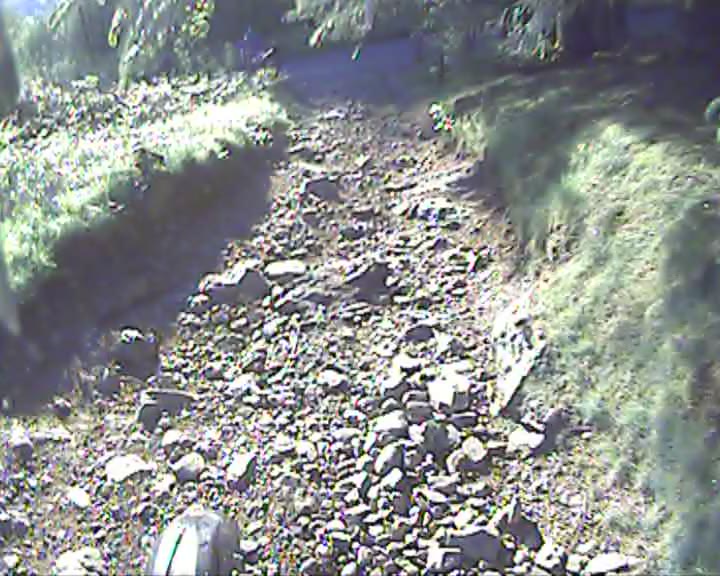 The final decent to the road.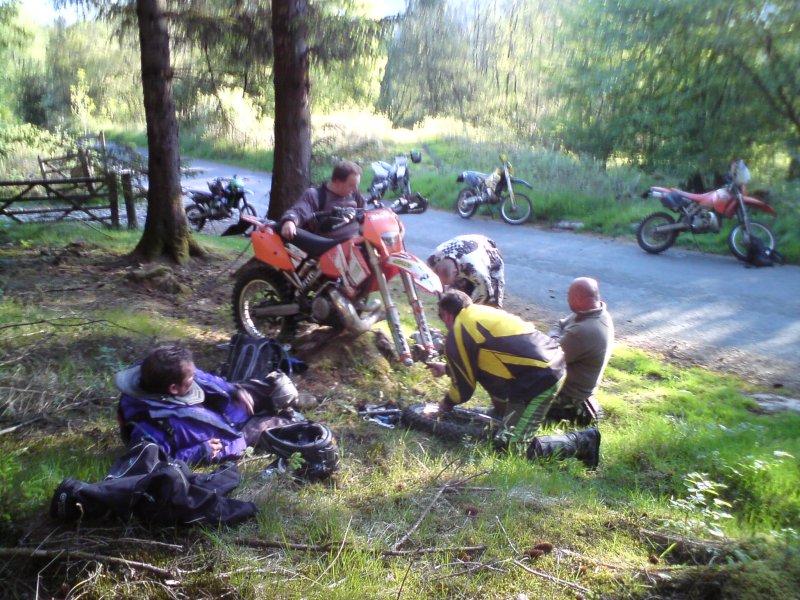 Where we find Neil did certainly show us how to do it. Get a puncture that is. Steve enjoyed a nice lie down.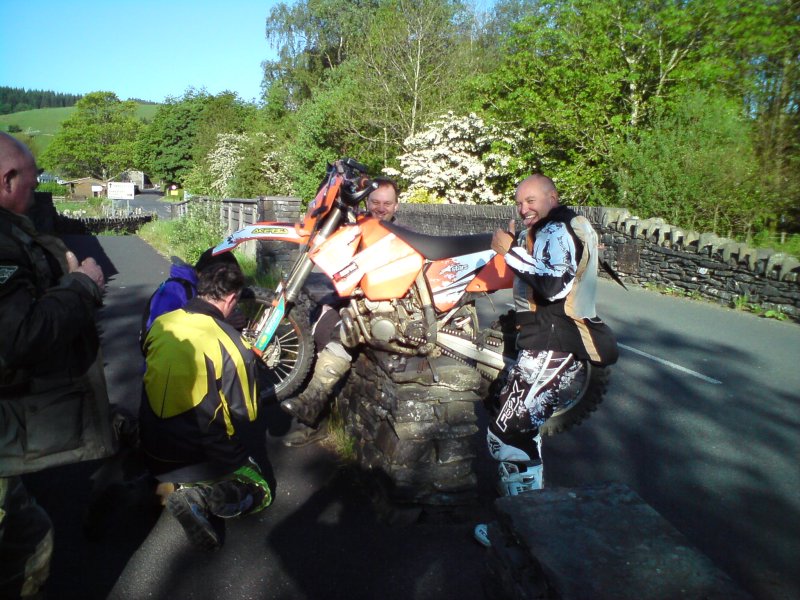 Sadly we then found we'd punctured the new tube when putting it in so it was a near immediate stop for a second puncture repair. Nick (the one grinning like an idiot) was keen to point out he did help. I helped by taking pictures.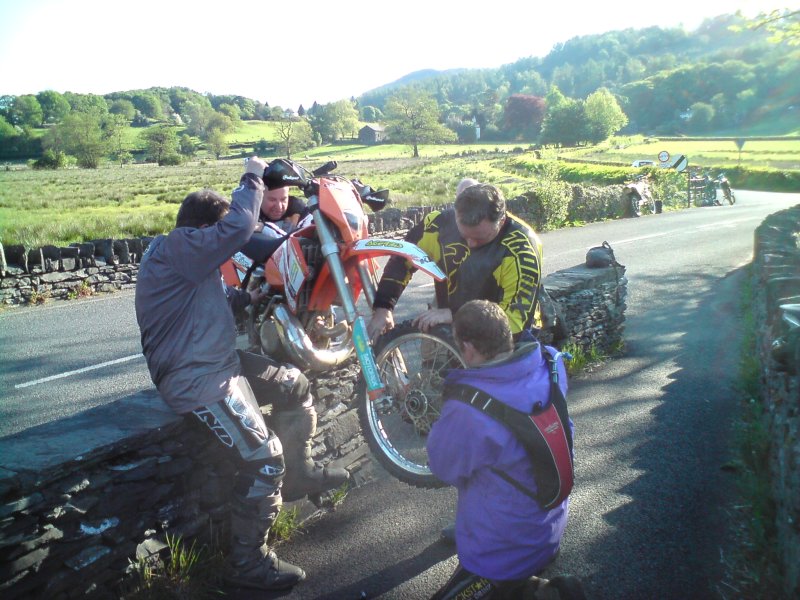 I tried to capture some of the scenery in the background but the sun was a nightmare for taking pictures. It was a nice place to stop at least with a SSSI next to us.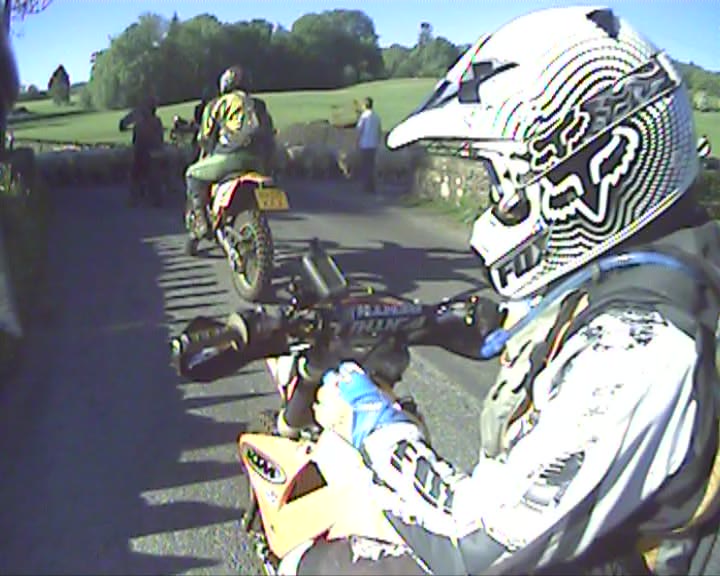 A short stop to let a flock of sheep pass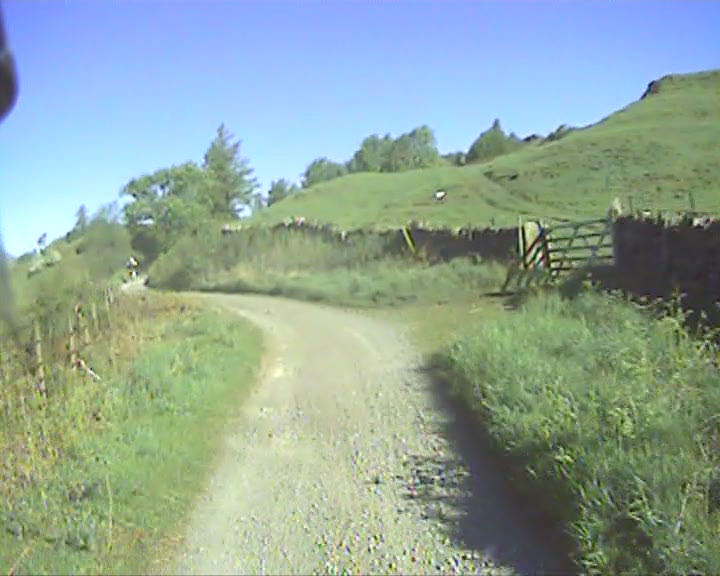 Nice green hillsides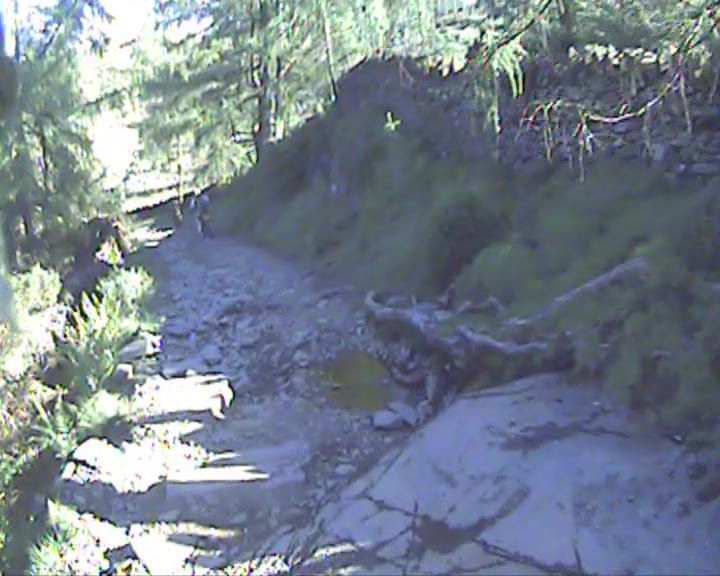 Rocks, lumps of hillside and tree roots...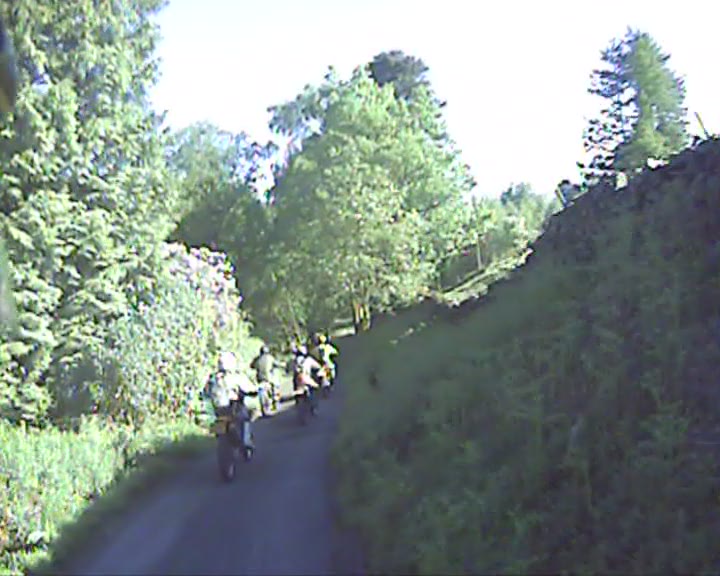 A rare shot of the group together!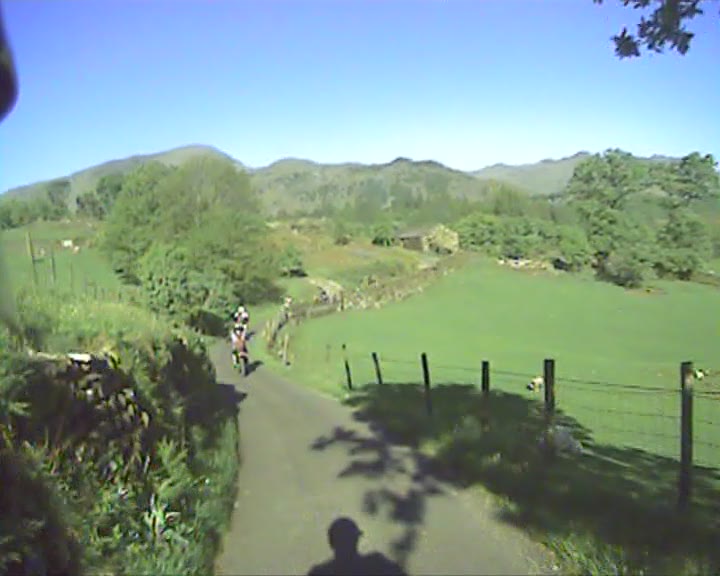 Hills looming in the distance, very Lake District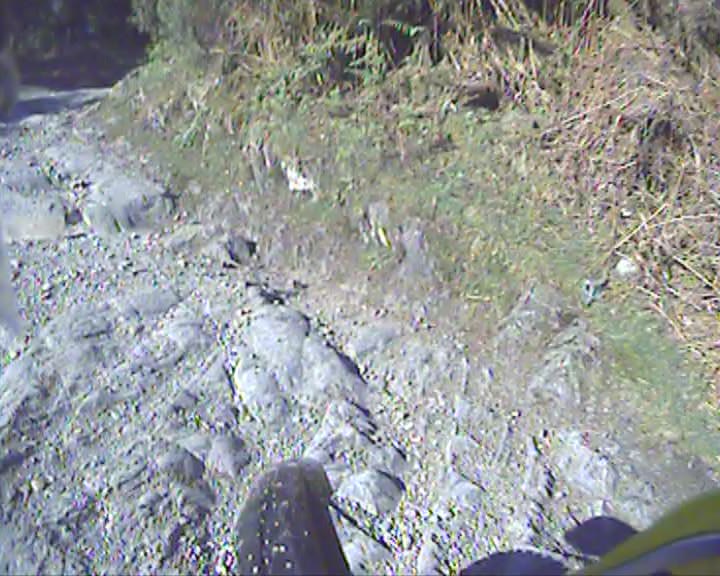 Now hillside with gravel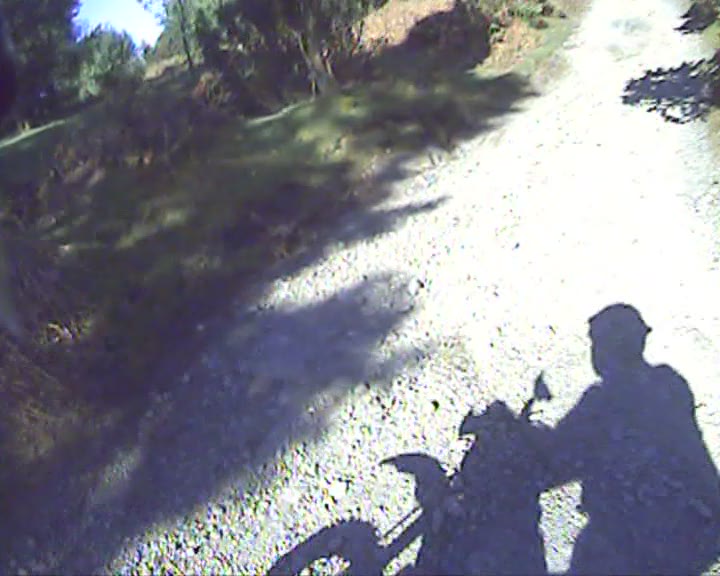 I liked the shadow here!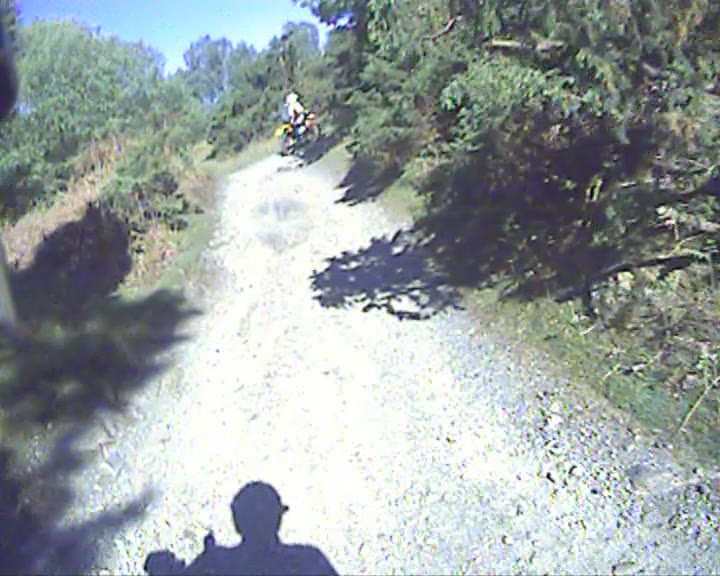 Uphill again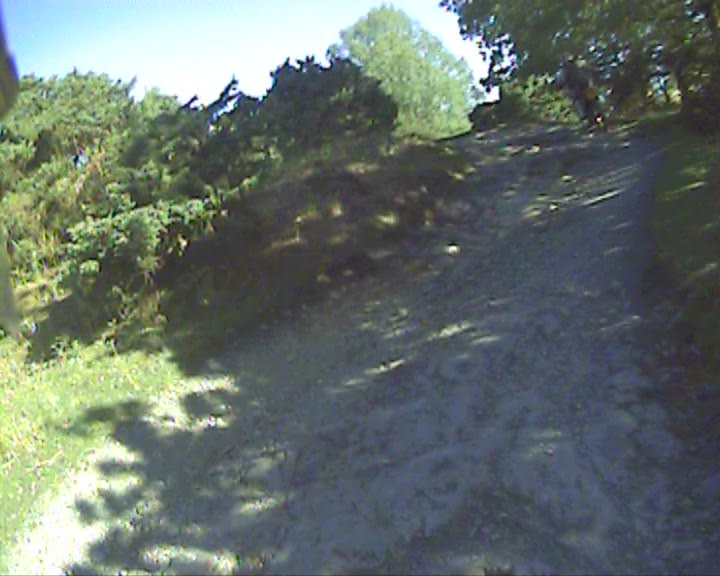 There is a bike in the top right of the photo climbing the hill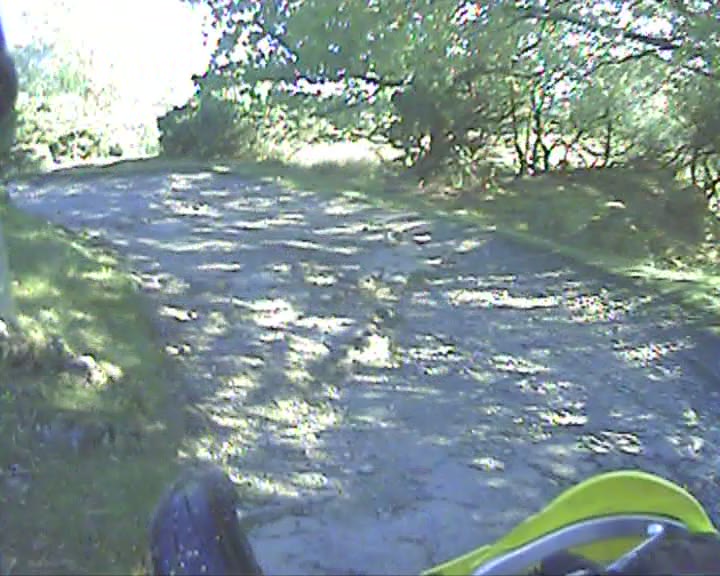 The YZ showing what it thinks of the hillside in the previous photo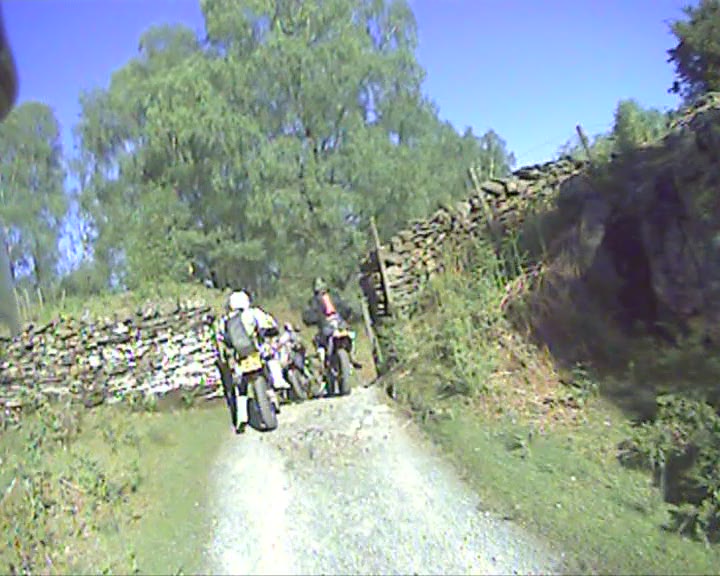 Typical lake district slate walls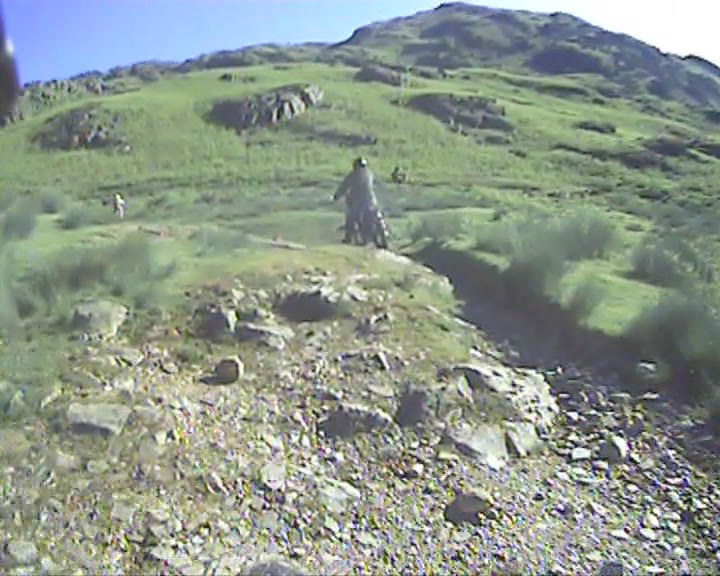 Here, there is the easy way, or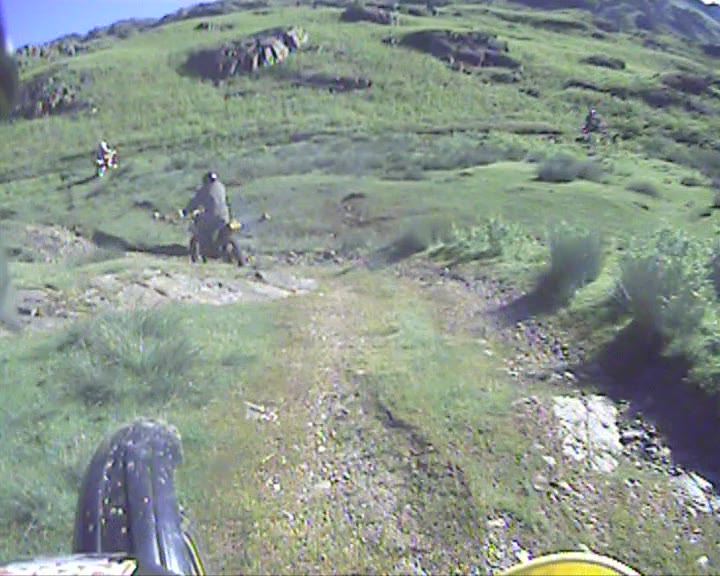 The YZ doing what the YZ does best, again.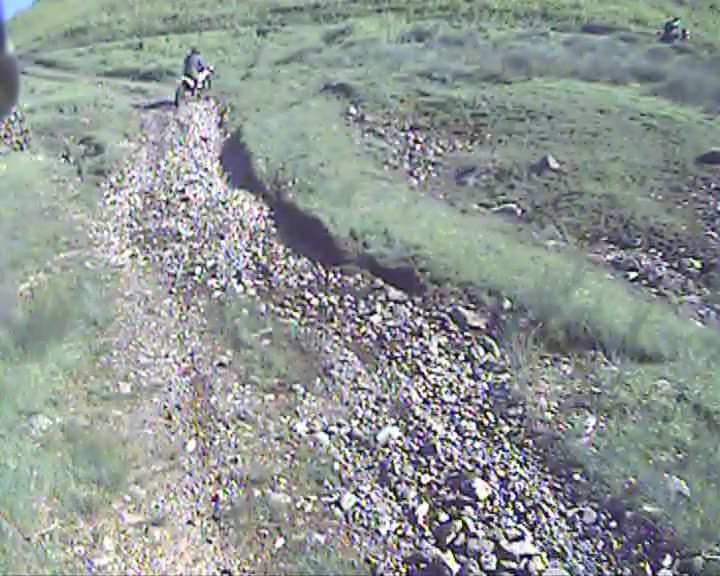 The rest of the hill was a bit easier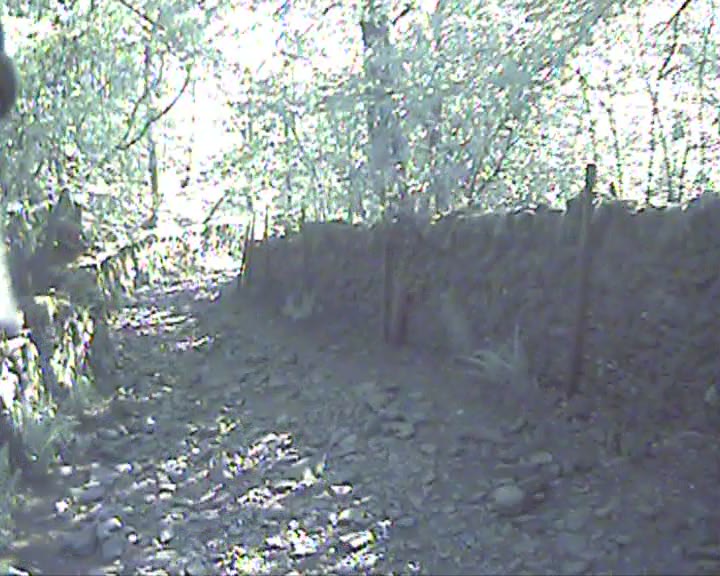 This was horrible to ride over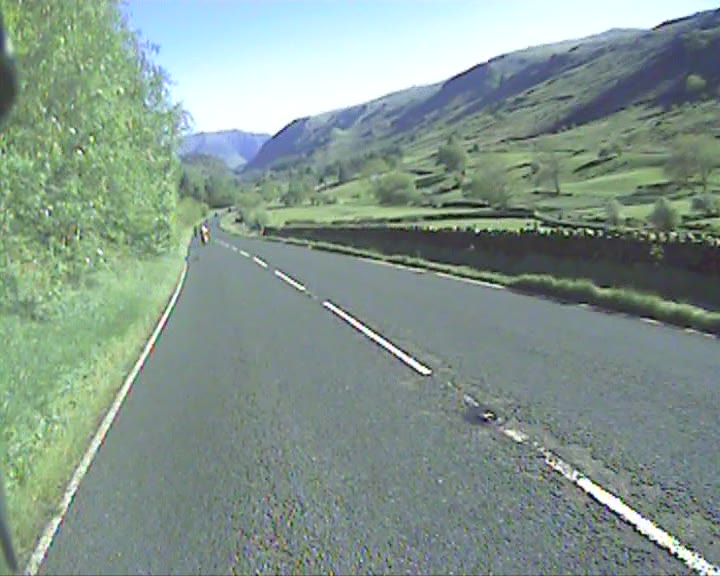 More lake district scenery from one of the longer and bigger road sections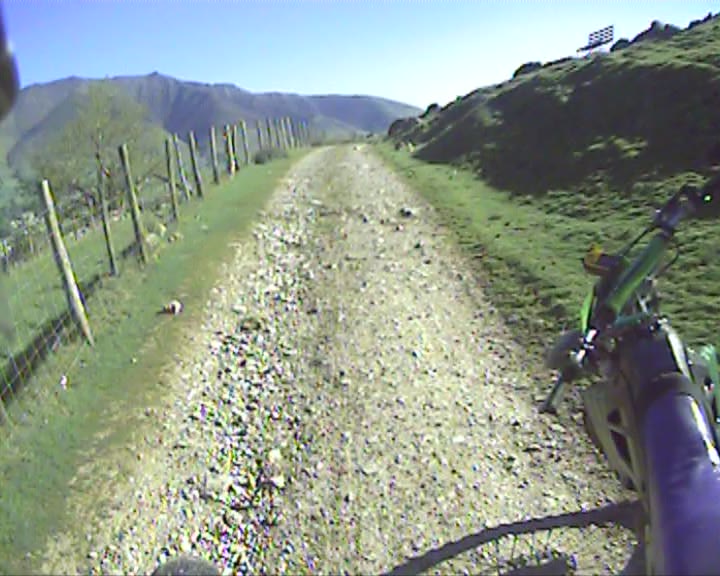 This route is marked on the map as an old coach road and is long for a green lane. The terrain didn't look too bad at first.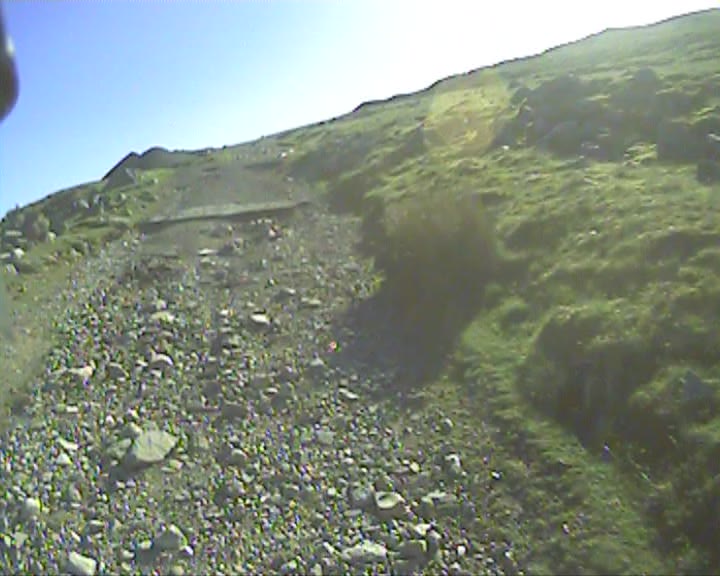 Although it started to deteriorate in places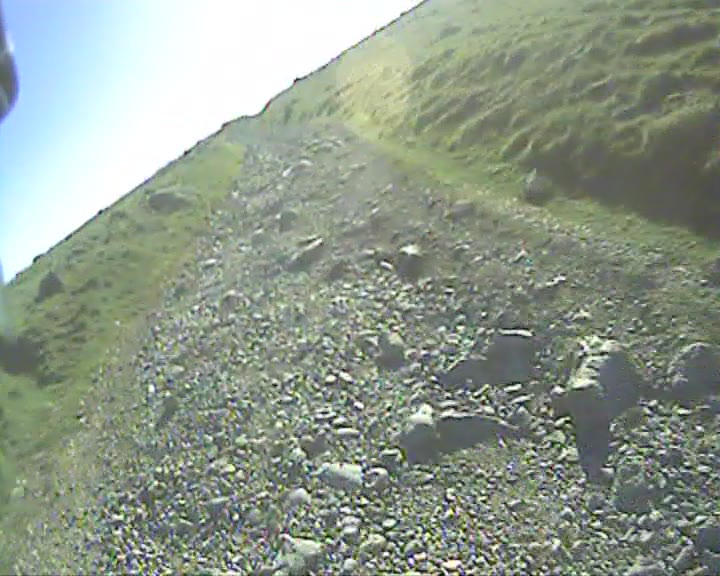 becoming quite steep and rocky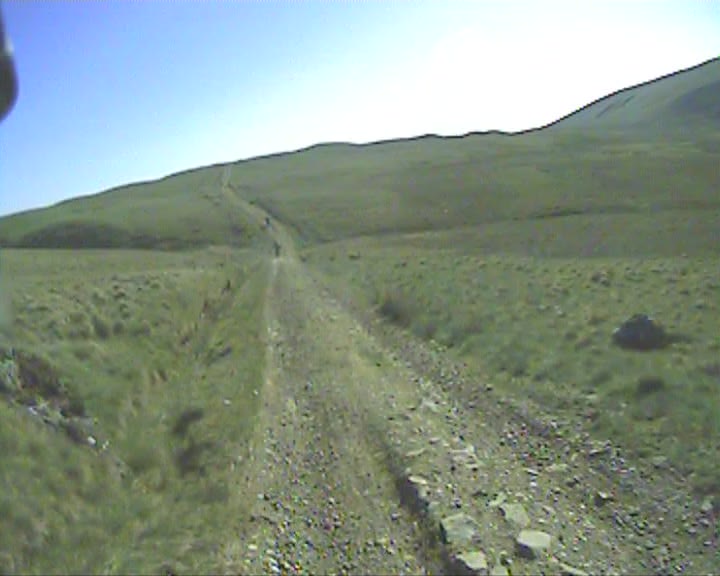 The group spread out a bit, not least because of the dust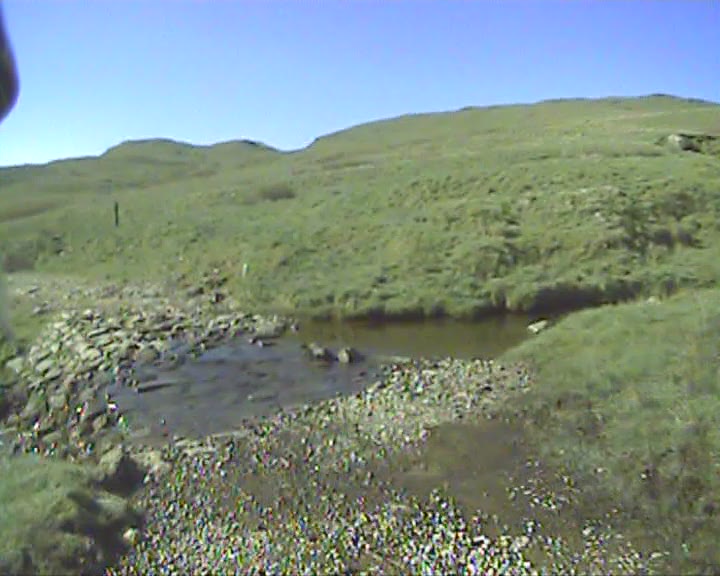 Its not often you find a ford crossing as well made as this one! Being a coach road obviously has its advantages.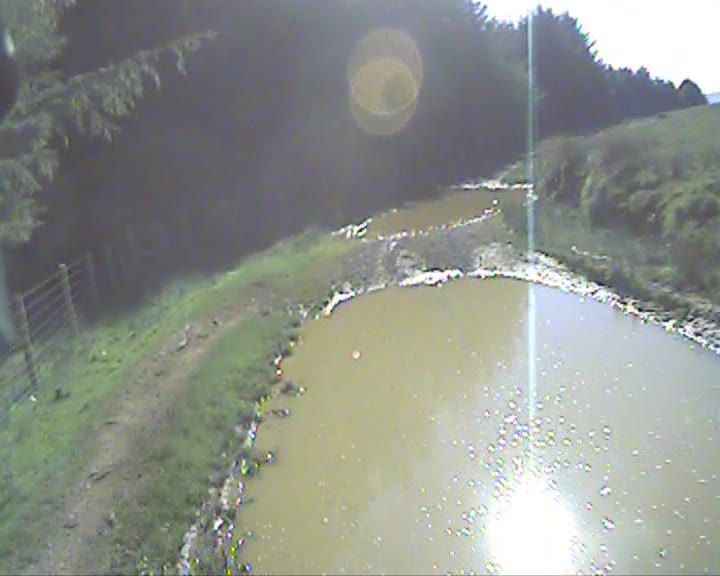 I managed to avoid these rather large puddles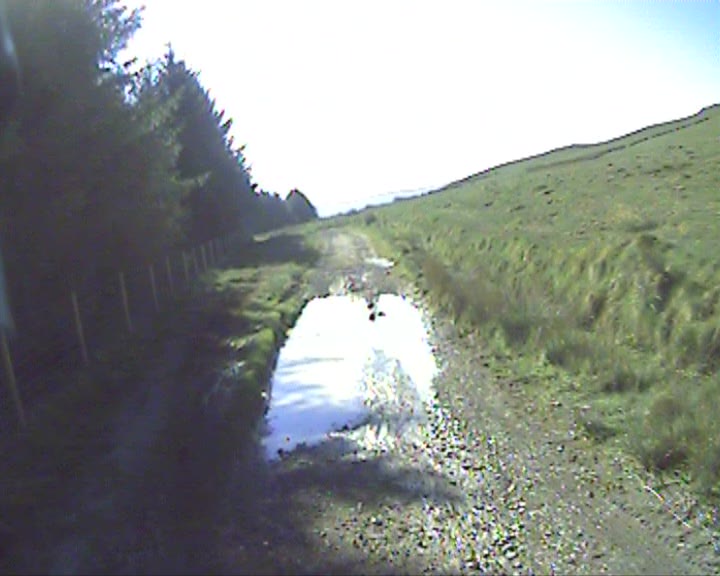 This one didn't look too bad and I wasn't on the right line to avoid it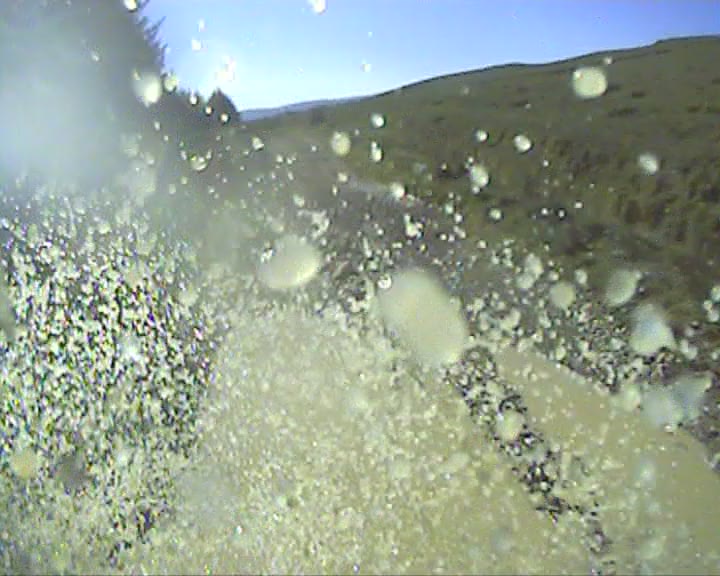 Sadly it was a lot deeper than it looked, I got soaked!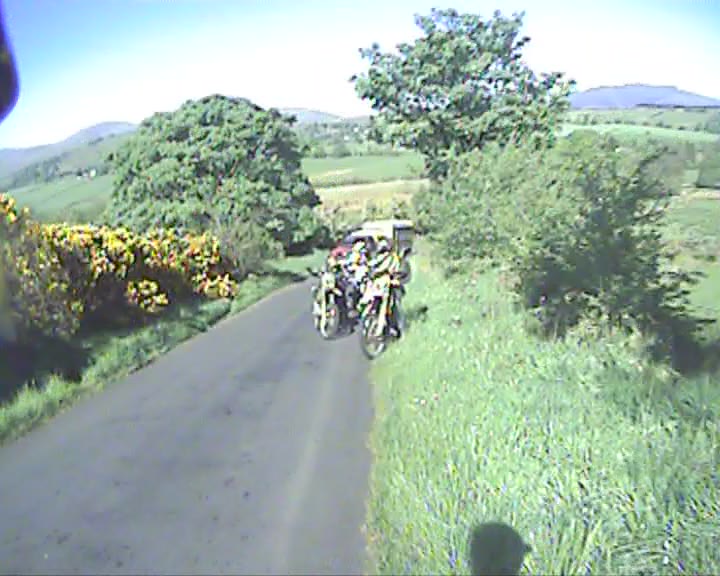 One of the bike stopped on this hill, out of fuel. We transferred some from one of the other bikes.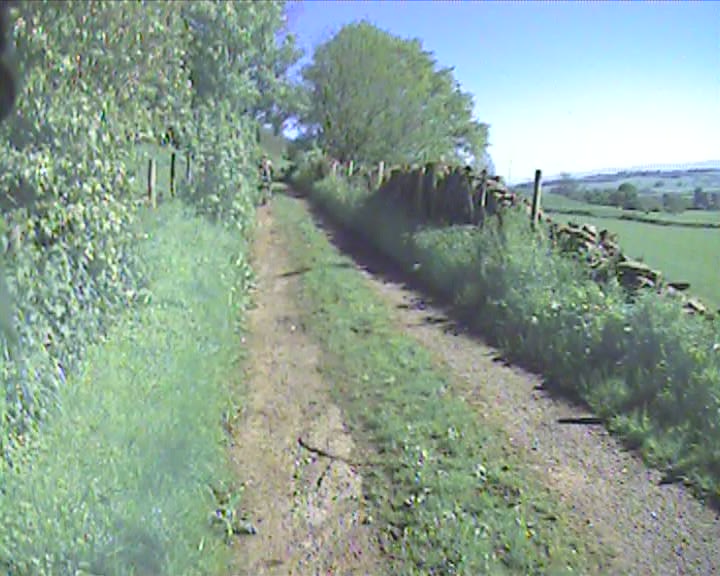 The terrain here is more like the lanes I'm used to.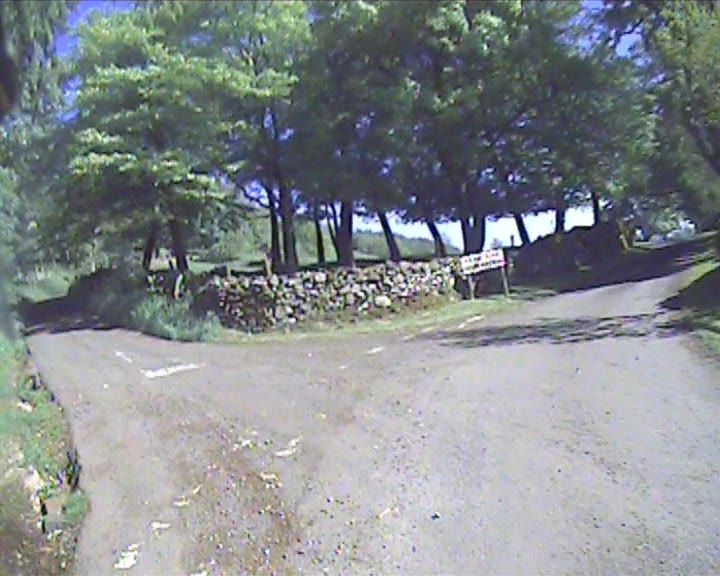 At junctions the rule is you look behind and if the person isn't in sight, you wait for them. There is nobody here, so some group members are not playing by the rules. Thankfully I have the route in my GPS, its fine, my GPS suggested left. A short distance later I realise Nic has gone right, also following his GPS. Hmm, Nic can probably read his better than I can, right?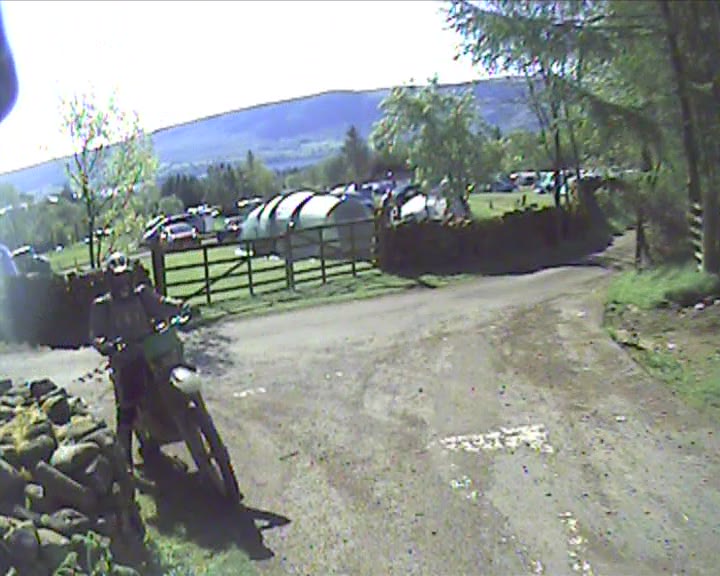 We therefore both U-turn and meet at the junction. We decided it really was left (which it was).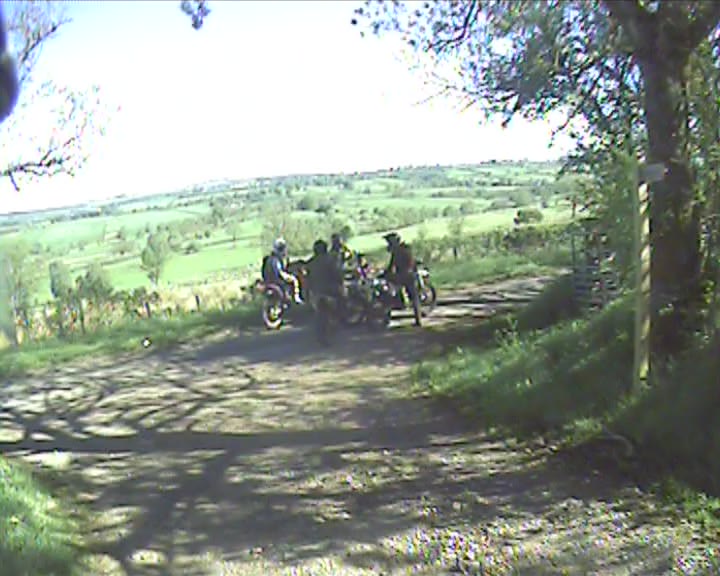 Frustratingly Michael's bike is out of fuel again. What is going on?!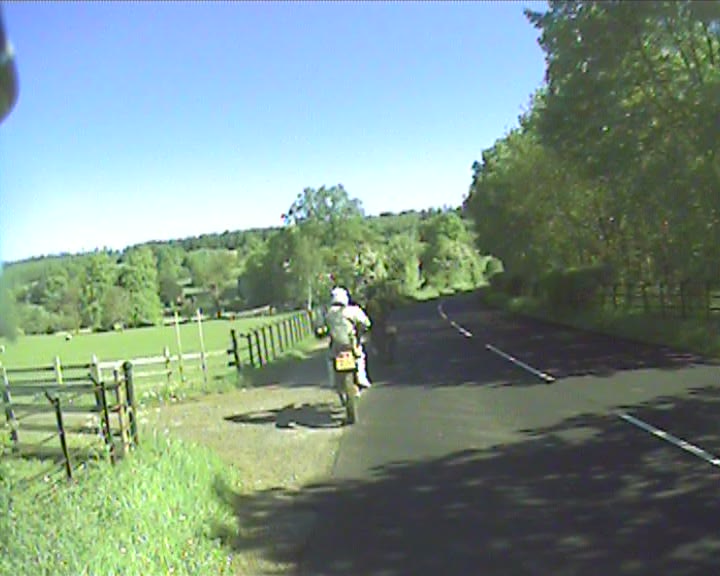 Stopping for fuel a third time, this isn't funny. Annoyingly the garage and first support stop is only a couple of miles up the road now.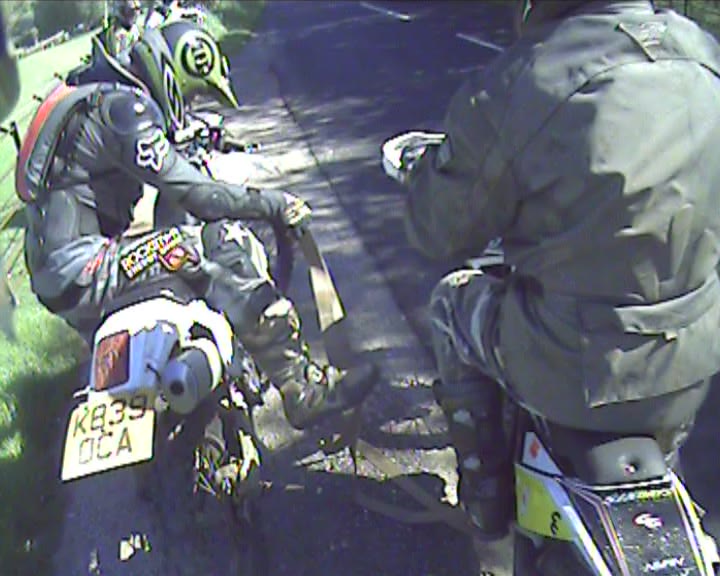 Enough is enough, we hooked it up to the tractor, er, I mean TTR and towed it to the garage.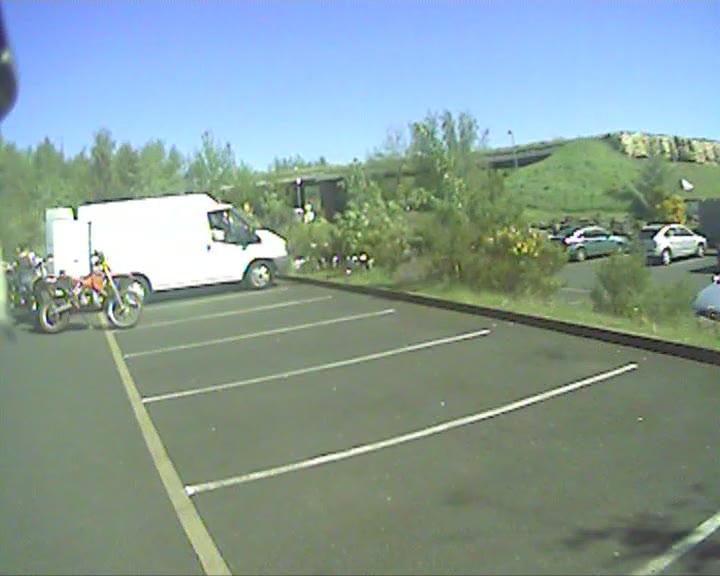 The lunch stop comes into view. Except it isn't, its only 10am! It certainly felt like lunchtime. This was the first fuel stop of the day at the Rheged Centre, Penrith and we're about an hour behind schedule. At this point we concluded the power valve on Michael's bike has seized which is why its drinking fuel. It says something that the TTR was on reserve, as was Neil after sharing some fuel and yet my YZ was not, despite us thinking it was going to be the worst offender for fuel range!
To be continued... here