The first weekend in June was the Northumbria TRF camping weekend (as it is each year). Sadly numbers were down this year, we've wondered if the switch to the electronic version of trail had something to do with this but there were still many old faces and some new ones.
I arrived at the site near Hexham on the Friday evening, most people had already arrived and a pleasant evening was had around the campfire. We were entertained by Neil's outdoor jacuzzi which he's long since threatened to build. I'm sure next year the minor design issues will be resolved and people will be queuing to use it!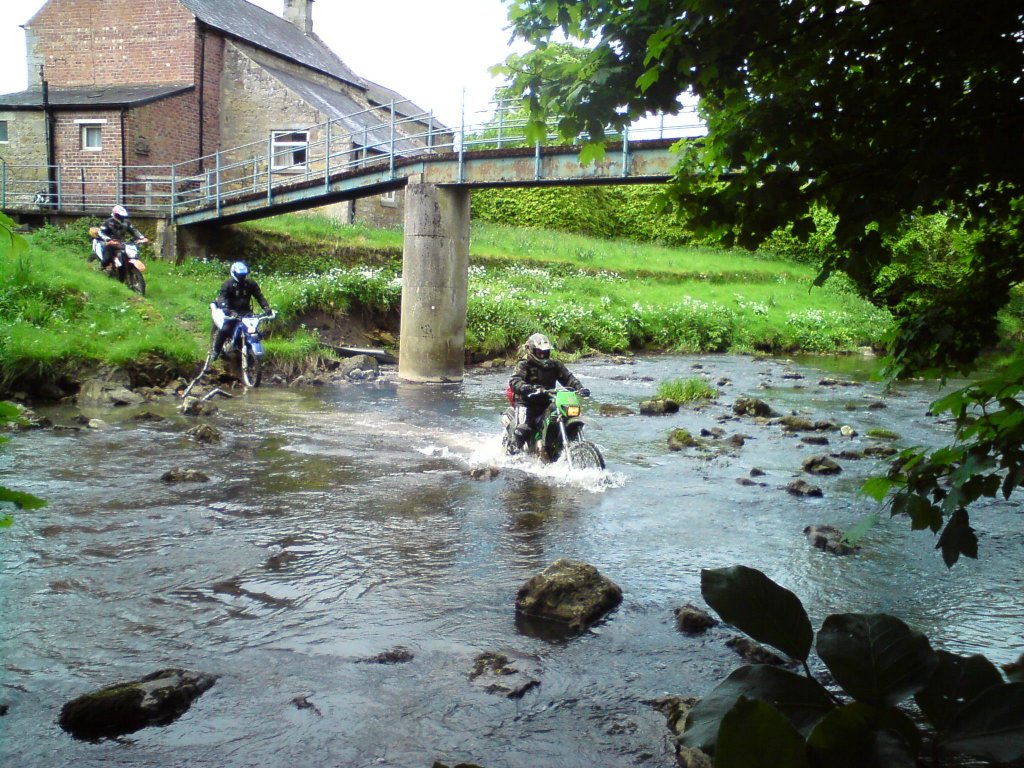 Saturday morning started off looking a bit damp but it is Northumberland and it looked like it would burn off. The group was an interesting mix of bikes and people, some older riders and some riders who were relatively new to trail riding. The 690 on semi offroad tyres wouldn't have been my choice for the day. I only wish I'm doing as well as Bob is if I manage to reach that age!
We headed off in a south easterly direction, quickly turning northwards, crossing the Tyne and off into the wilds of Northumberland. As we went North the lanes grew greener and more overgrown. There were a few nice river crossings but the water levels were well down compared to normal making them quite enjoyable. The aim of the day seemed to be that if you were going to fall off, don't let anyone see and then it didn't happen! Despite some valiant efforts some group members were spotted although nobody did spot the moment I had my legs flailing around with the bike veering in every direction but the one I wanted to go in. I never did actually come off although how, I have no idea.
The first part of the route was in a light annoying drizzle and it was hampering the readability of the GPS but I am starting to get a feel for where the lanes are. I managed to avoid the tour of a housing estate as featured the last time I lead this route though and thankfully the drizzle stopped once we started heading turning towards the west. The pace was whatever each rider felt comfortable with as we were waiting at the lane ends.
After a river crossing, some of the group failed to show up so after a while I went back to find out what was going on. It turned out Nic, my backmarker's exhaust had fallen off. Those with a good memory would remember this featuring in the run I did last year too. We'd even been joking about this at the campsite that morning. I have started carrying a small reel of lockwire, I was wondering how much this was worth at this point. Equally, I wanted to get to lunch so we wired the exhaust back on and continued, stopping for fuel in Scots Gap a short while later.
Just before the lunch stop we bumped into one of the other groups going the other way. They'd already had lunch and were debating what to do about a breakdown but there wasn't much we could do to help. We eventually made the lunch stop sometime after 3pm having found the first choice of cafe shut. It had been a tiring but enjoyably morning.
We set off from there through Wark forest, I believe Nic had to tweak the exhaust mounting again. We made the final fuel stop and then back to camp, being the last group back and having covered 138 miles.
On Sunday we were feeling the effects of the day before so we decided not to go as far and get back a bit earlier. The weather was lovely. One local rider decided they'd done enough the day before so wouldn't be joining us. A trip over Plenmeller common and then looping around finding the A686 started the day. The 690 headed back to camp at this point as they wanted to get home for a particular time so then we were five. Since its good to have a challenge we went over Limestone Brae which is a steep decent, through a river and then a steep rocky climb though a set of switchbacks on the other side. We then continued up over Long Cross, another rocky climb which I quite enjoy in that direction (I dislike coming down it, not least with the bike on top of me as has happened at least once).
We stopped for fuel and some food in Alston which we took up to the stop on the top of Hartside where we talked with some other local trail riders and watched all the bikes that were out.
After lunch we headed back to Alston, looped around some trails there (note to self to reverse the loop next time as I prefer rocky climbs than descents) and then it was over to Nenthead and Tynehead. As we drew closer to Hexham, it was clear people were starting to get tired, making silly mistakes and dropping bikes, me included having cross rutted it trying to avoid something I should have just ridden through.
I think everyone enjoyed the weekend and everyone made it safely back, including Nic and his exhaust. I live in hope that he will fix the bracket for the next time so we could at least have some variety in the breakdowns! 🙂 By the time I got home I was totally exhausted.