I took the CRM to bits back in September. It was making various rattling noises that said the engine was tired and in need of a rebuild. Upon dismantling it, I found that not only was the piston chattering but the power valve was also not in the best of health being rather loose on its shaft. I managed to get a secondhand part for that but getting a new piston proved tricky since I wanted a forged one rather than cast. I ended up going for a .4mm oversize after much playing with feeler gauges and vernier callipers to map out the barrel wear. As expected it was more worn in the centre of the bore and less at the top/bottom.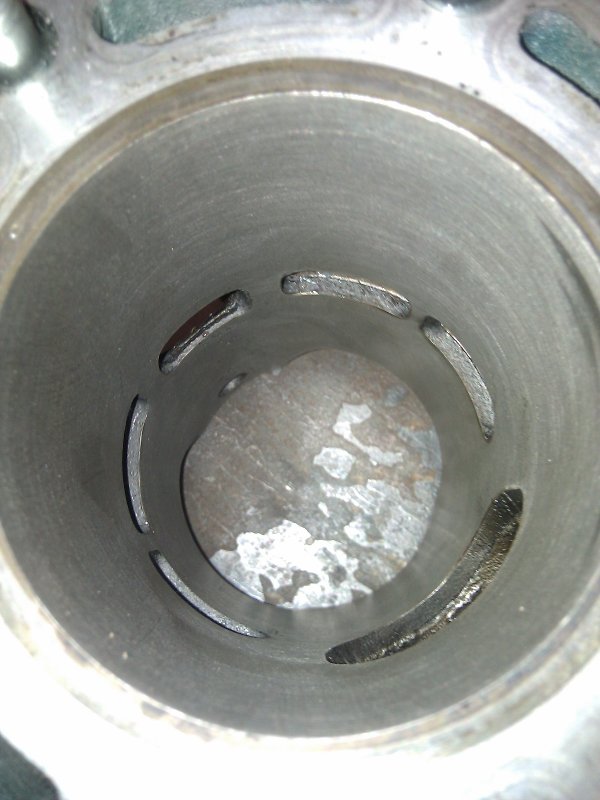 As a family we've long since used an engineering shop in Blyth for rebores. A lot of our engines now have nikasil liners which mean sending off the cylinders but this one is a cast iron liner and hence can be done locally. When I dropped it off, there was much sucking of teeth about a 0.4mm oversize piston as it was not leaving them a lot of room for the rebore. They'd do the best they could, complaining the standard bores were never actually straight. It had been given to the "old man" by the son since he has more patience with these silly motorcycle things. We use the place due to their attention to detail. A joke from my school's karting association days about their local competitor springs to mind: "Where did you get the rebore? Armstrongs?! How do you square up the barrel then? Yellow pages [telephone directory] under one side?".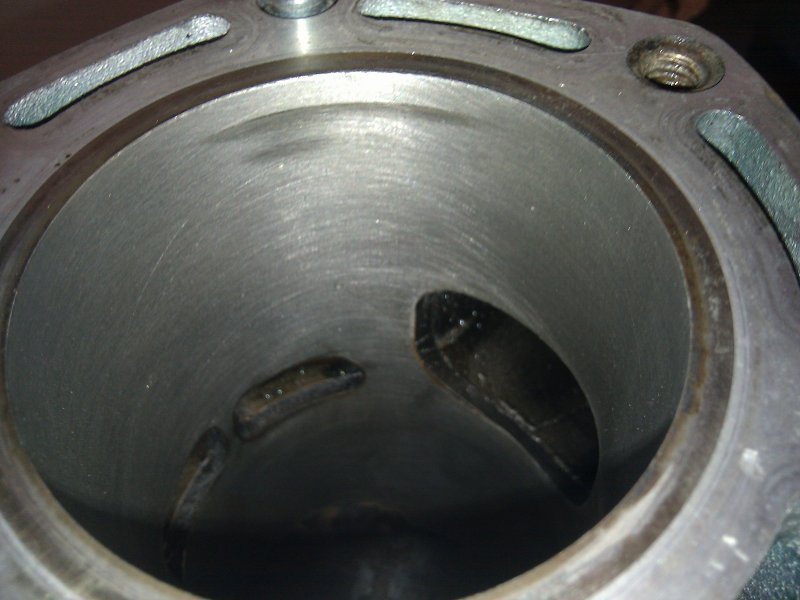 The above shows a mark left which they were very apologetic about but they had warned me. In reality this won't make any difference to the running.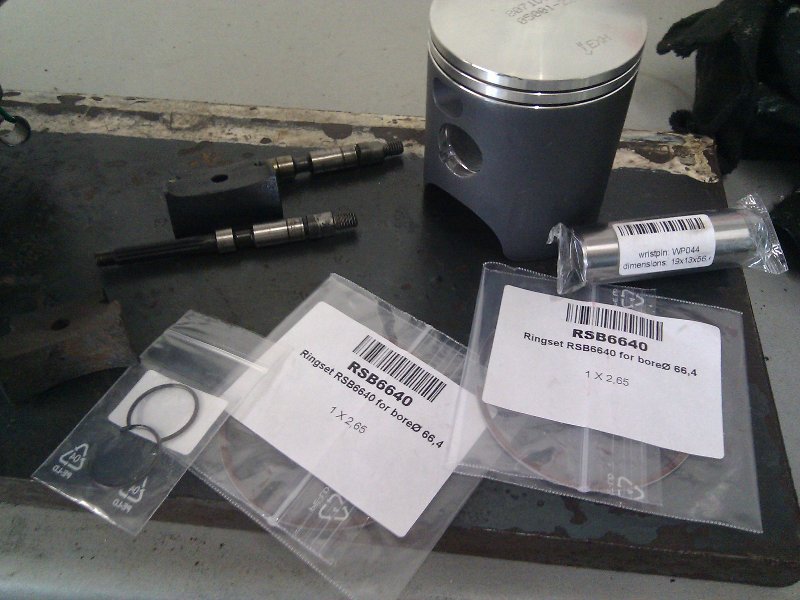 New shiny parts and some less shiny power valve bits.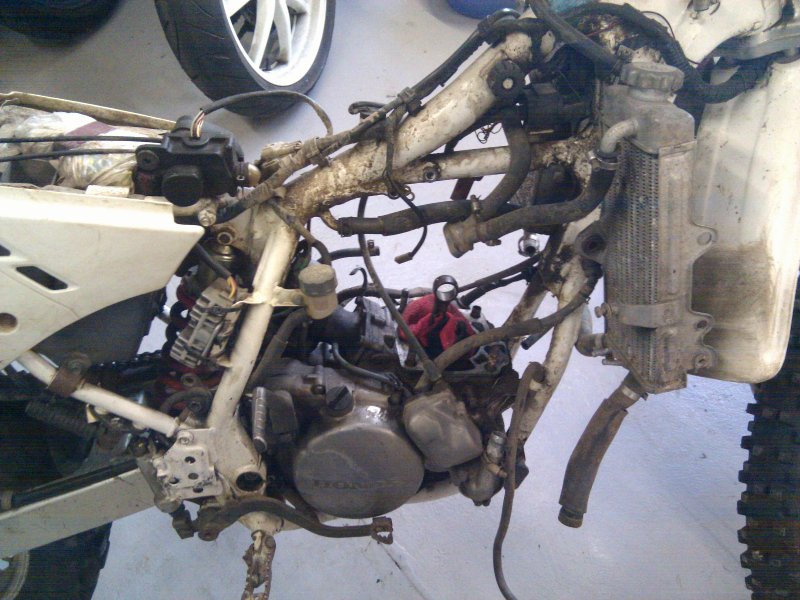 Crazy amounts of plumbing. The question is could I remember how it all goes together from back in September?
An interesting aside, these photos show the exhaust port with the valve open and closed. It makes an amazing difference to the port size and position. This allows the engine to have low down grunt and decent top end rather than having the port timing fixed to a specific engine speed.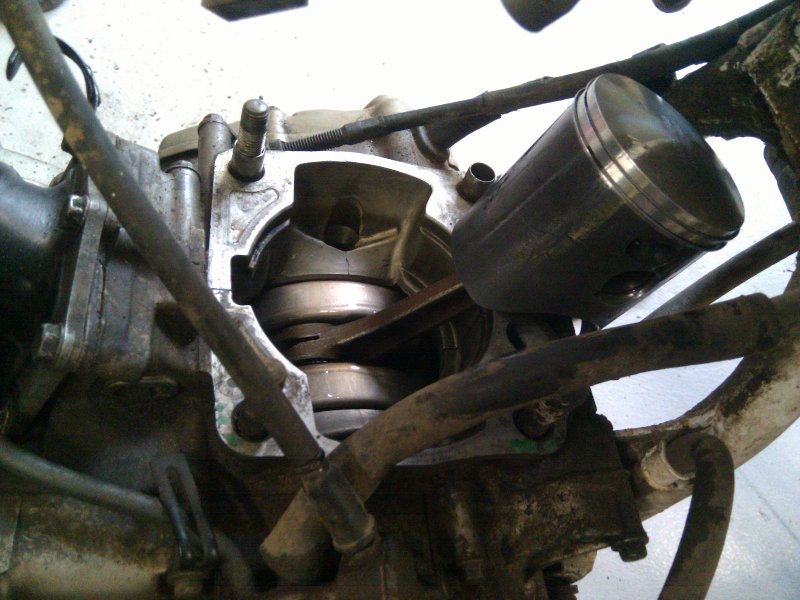 The new shiny piston fitted and ready for the top end. I nearly forgot to fit the new base gasket but did thankfully remember.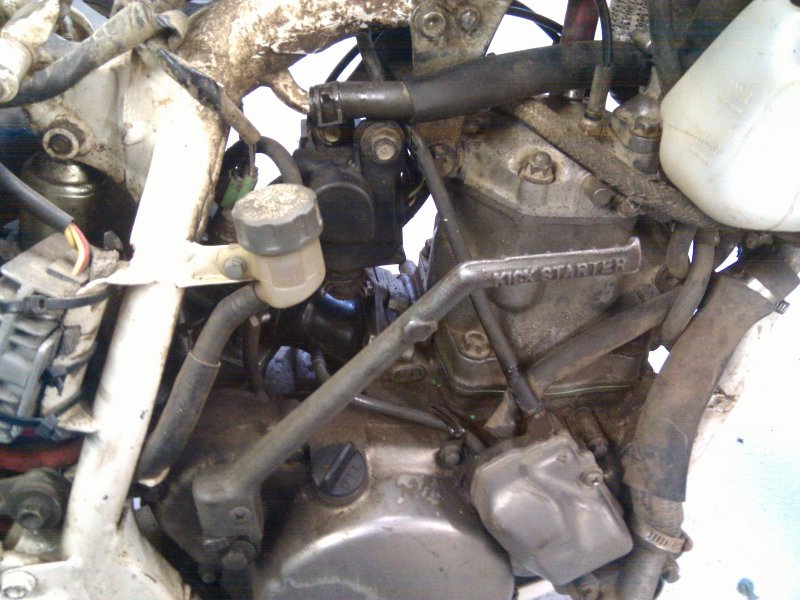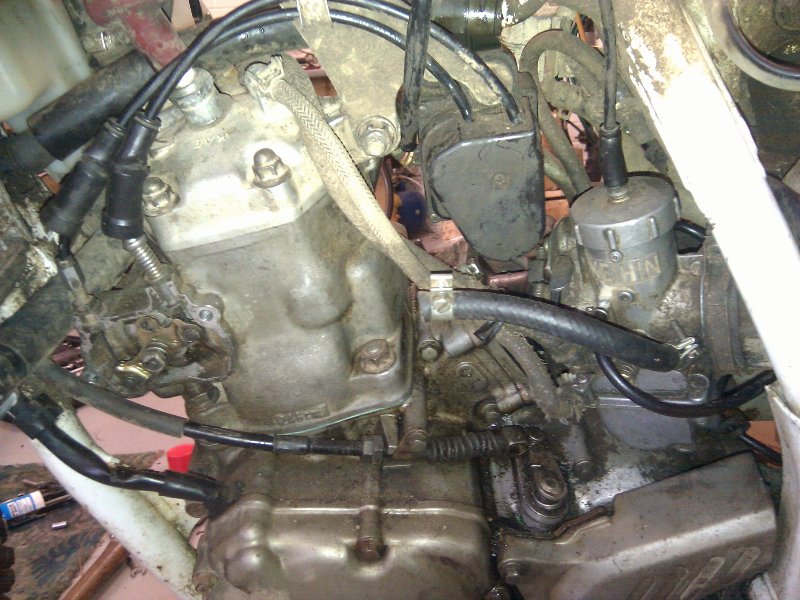 It went back together with nothing unepected left over which is always good. So did it start? Kind of. It did fire up, smoke a lot then stop. It reluctantly fired up again, stopped and lost all compression. At this point I was some what panicking and also out to time to work on it further.
There are a limited number of ways a two stroke can lose compression and most of them are not good. This morning I took the exhaust off and peered into the barrel as best I could, all looked well. No signs of the power valve having hit the piston which was one worry. I tried turning the engine over under load and the compression came back suggesting the thing was just full of oil which was seizing up the piston rings. I spent an age kicking it over trying to get it started and did manage to get it to fire up occasionally once managing to get it onto full throttle with clouds of smoke coming out, then it basically stopped dead again. The plug was clearly oiling up and its a 10 minute job to remove, clean and refit it.
I gave in and called in Dad to drive the discovery whilst I was towed by it on the CRM. I am reluctant to do this having destroyed engines like this but I was confident the thing was just clogged up with oil. It took half the block for it to turn over enough to clear, fire and then run under its own power. A couple of more trips around the block, probably much to the enjoyment of the neighbours and its running! So it lives again, just need to get it out and gently run it in now.