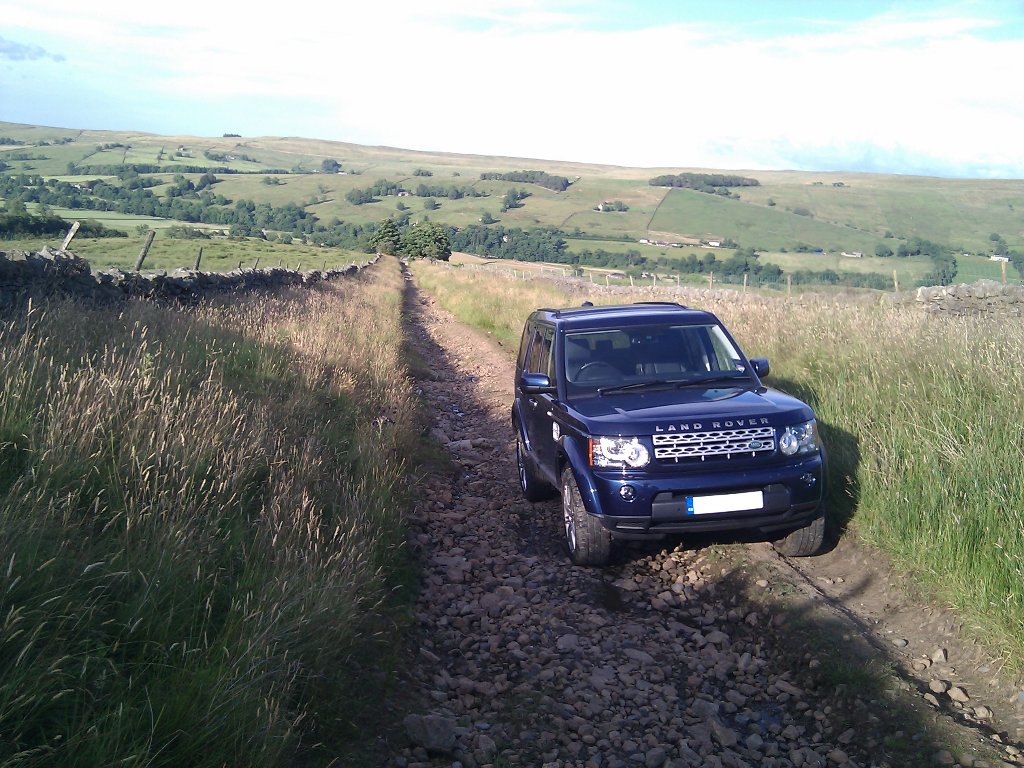 I've been wanting to try this since I brought the Discovery. Last Friday on my way elsewhere with a full load of karting stuff in the back I took it over Long Cross since I was passing. This is a steep rocky climb with no tarmac surface, just rocks. I decided not to stop for photos on the steepest/most technical bits and the sun was in the wrong direction but you get the idea from these. I was impressed with the way it handled things as it never missing a beat. Stopping and starting again wasn't a problem anywhere and it slowly but surely crawled its way up and over everything.
One thing which didn't impress me is when I took it out of low range and the rock crawl mode at the top of the hill, it also decided to drop to normal suspension height itself without prompting. This lead to the vehicle grounding out which was annoying, the towbar/bike rack mount took the brunt of it.
I think the weirdest feeling of all was after this, feeling bumps and twists through the steering, driving back onto tarmac and resuming 60mph cruising of twisty roads up and over Hartside and into the lake district. It feels so at home on both.
The size does make things interesting on some of the narrow roads over in the lake district but it also has its moments where it shines. For the trip back there had been heavy rain which had washed large gravel onto the A686 but this wasn't a problem. Hitting a few inches of water flowing over the road at speed was also interesting, its the first time I've felt it thinking about aquaplaning but the main issue being its tendency to seemingly remove all the water from the road and put it on the windscreen making seeing where you're going trickier. All in all I'm quite enjoying it!