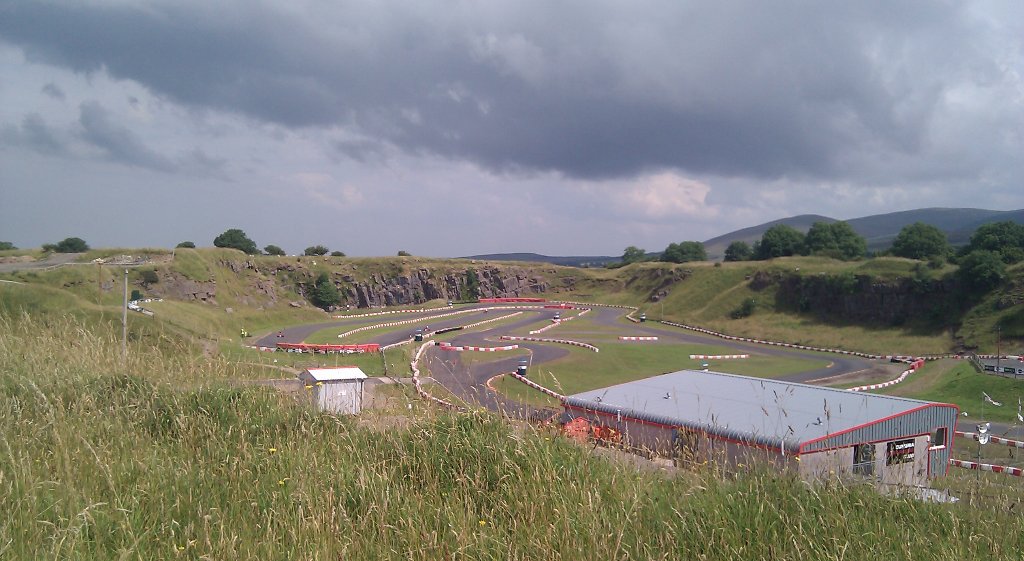 For five years my kart (CR250 powered) has been buried behind mountains of "stuff" at the back of two different garages quietly dreaming of once again driving on open tarmac. Partly this has been a time issue, partly its due to not being able to drive it on any of the local circuits after they deemed gearbox karts too dangerous on them.
The kart is "only" 19 years old and is water cooled so is frowned upon in historic kart circles however I was invited to attend their annual meeting over at Rowrah last weekend. The circuit is my favourite kart circuit since its somewhere unexpected (a national park) and is picturesque, nestled in the bottom of an old quarry. Since I was last there (must have been years) they have built a new clubhouse replacing the corrugated iron shack I remember of a canteen and generally improved facilities there.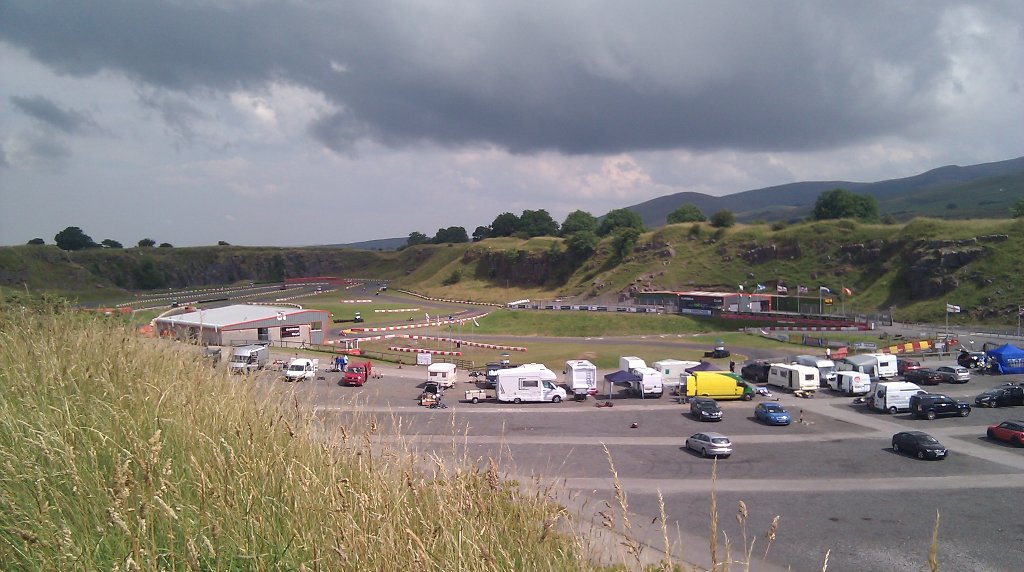 Prior to the event I'd cleaned out the carb and fuel lines, found slick tyres for it, filled it with coolant and was pleased to find it started up on the rope without any real issue. My Dad was also there with two karts, one a Bellotti with a air cooled 'red rocket' CR250 on it, the predecessor to my kart's engine and the other, the cougar, a kart from 1979 which has its main components manufactured then but was only recently brazed up on the jig which was dug out from under a compost heap. This was the Cougar's first outing after several late nights last week finishing putting it together.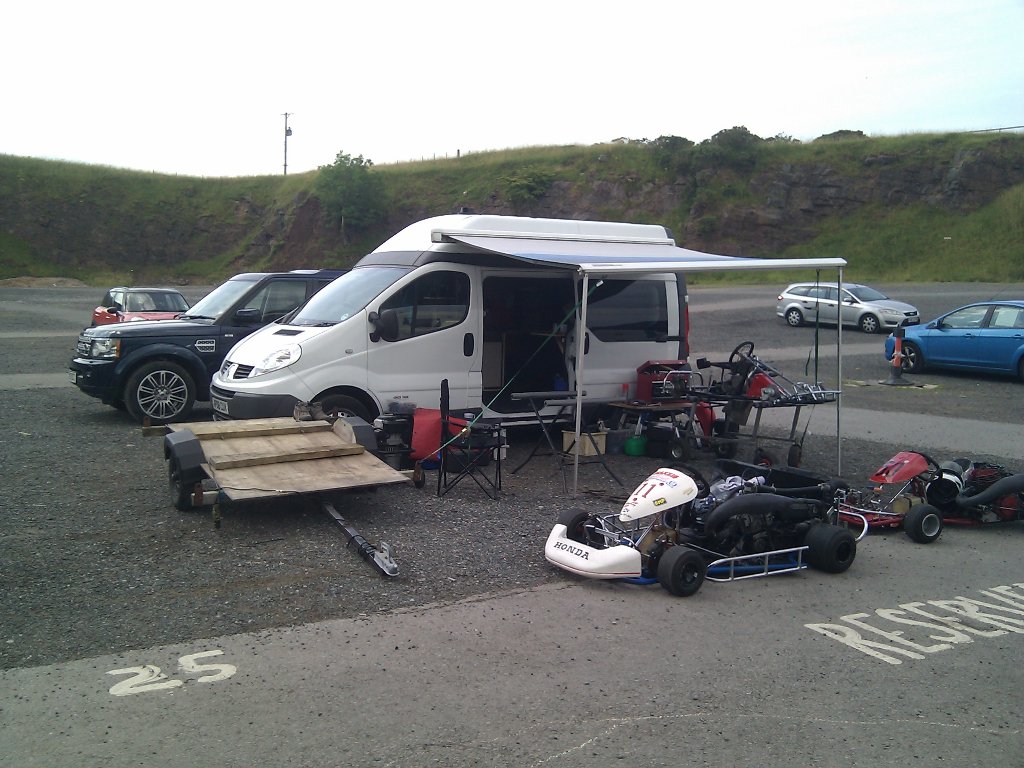 After arriving on the Friday night and meeting some people I've not seen since the School's Karting Association (SKANE) days and a good night's sleep on the top of a hillside, the Saturday had beautiful weather. The sessions were alternating between class ones and class fours, 20 minutes each. That is ancient terminology for 100cc direct drives (ick) and then anything with a gearbox (the proper karts).
Basically my kart performed wonderfully given its condition, the only issue was that it was geared for long circuit (26:30) and I was only using the first 2.5 gears. There were some modern 125cc karts there which were thrashing me on acceleration. Initially I decided to ignore this but I appear to have some kind of competitive spirit as I ended up taking the sprockets off and changing to 26:36 which was chosen from the available sprockets and chain availability. This gave me 4 gears and made a massive difference to keeping up with the modern 125s as I could now act as a road block and keep up with them. I'm not sure I could have overtaken one, would have needed better gearing again for that but I was happy enough.
I played in various sessions, torn between pushing the kart and not wanting to break it, particularly the engine. I soon realised that the back bumper had cracked around the radiator mounting on one side, an age old problem its suffered with since forever however I decided to ignore that. I was less able to ignore the squealing the kart was now making under braking. A quick check showed the rear pads were not looking healthy, it turned out one has partially disintegrated: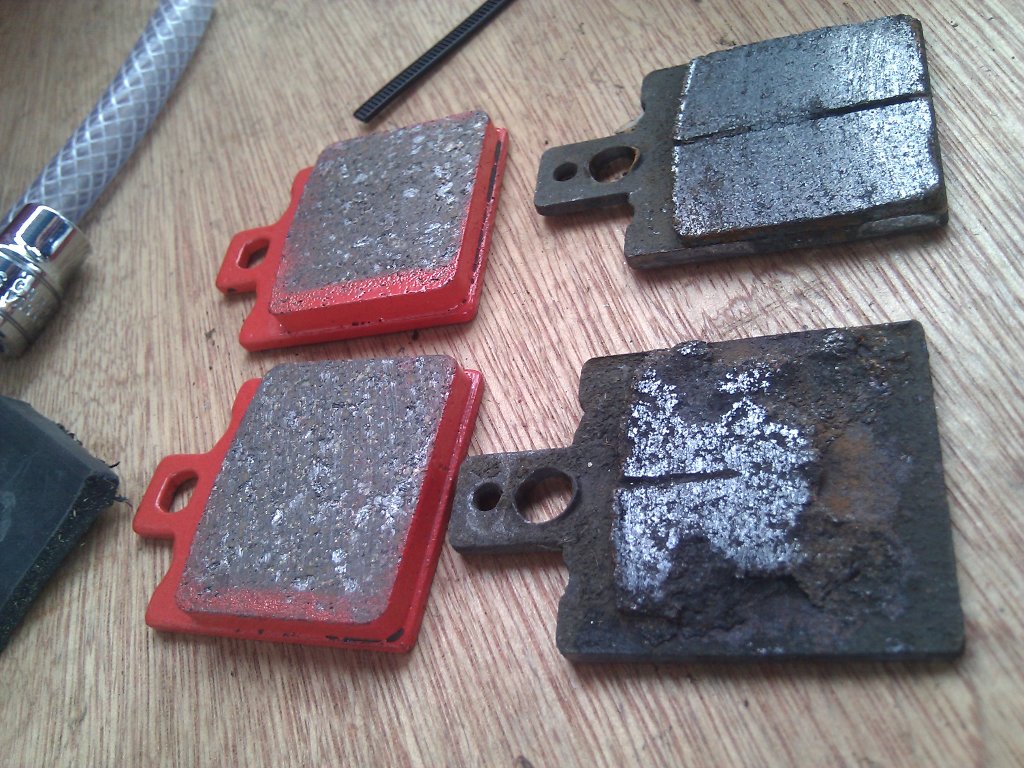 thankfully, I'd taken a set with me having realised the pads were low and even had the cordless drill to make the oval hole round on the new pads to fit.
I tried Dad's red rocket and it was fun, the engine makes much more sense on that chassis that some of the others we'd had on it 10 years ago in the SKANE days (2.5 YZ125s reduced to shrapnel in the end). We then turned attention to the cougar, the engine fired up no problem although pushing it up the hill to start it was hard work as the brakes were new and binding a bit. Dad took it out onto the track and it threw the chain. Hmm. We replaced that and tried again. As I was push starting it, I had a hand on the engine and as it fired and set off, I noticed the engine move 4″ sideways. My brain registered that it shouldn't do that, ever. I signalled for Dad to stop and we found the engine mounting posts had sheared from the chassis, the engine literally now able to fall off. Game over for the weekend but it can and will be fixed and the weekend was always meant as a shakedown for it.
The memories of how to drive a kart came back, I only spun once over the weekend and kept the engine running. When chasing 125s, I did run wide off the chicanes onto grass on a few occasions and despite effectively rallying the kart, kept it on full throttle and didn't lose ground. I suspect I'm channelling some of its former rally driver owner there (who's name is still on the front bubble).
At this point I was bruised and battered from bouncing around in the seat, a seat bolt finding a particular connection with my ribs which were now visibly bruised along with my left shoulder blade. I had quickly resorted to driving with a towel wrapped around my waist but even that didn't stop things. Dad took plenty of photos and I also swapped roles and took from photos of him in kart for a change, venturing out onto the circuit in the high-vis with a camera much to the bemusement of people (its usually Dad doing this).
It rained heavily over night and part of the Sunday morning, I wasn't optimistic the track would dry but it did. I hadn't slept too well due to the bruised ribs and shoulder. I did get out a bit more on the track and was pleased with the kart holding its own apart from against a particularly quick twin 250. One of the things which I regret from the SKANE karting days is there weren't many photos despite hundreds of hours in the various karts. I now at least have some photos of my in the 250 thanks to Dad, its only taken 20 years to get them!