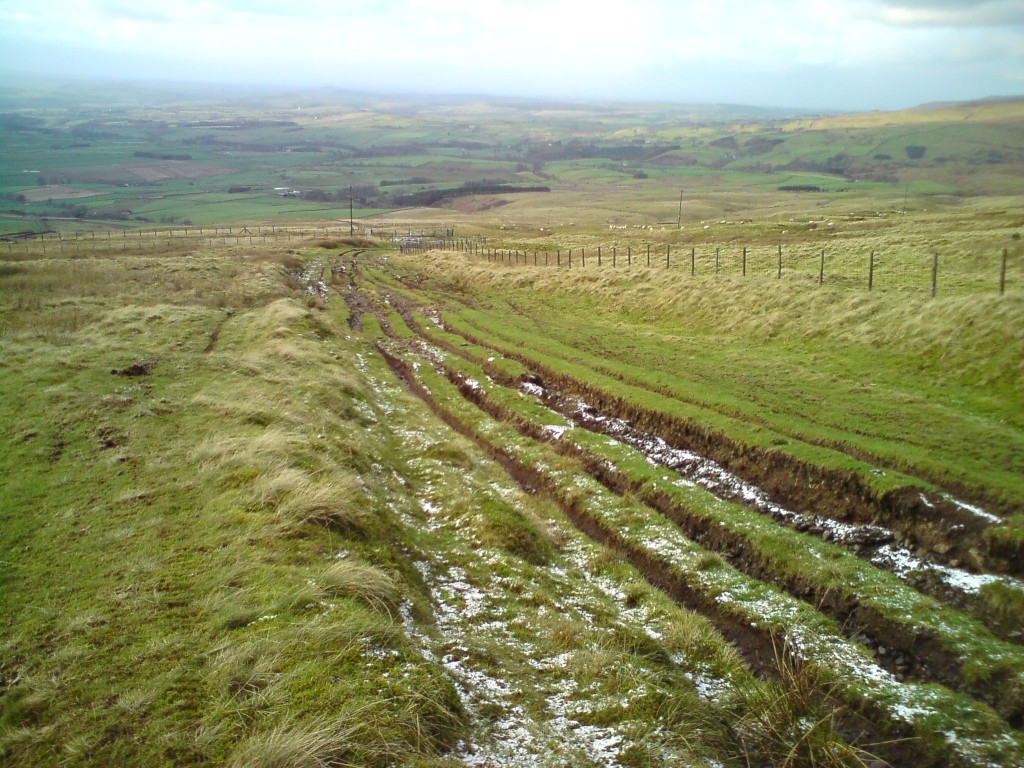 Last Monday with it being a bank holiday I was invited out for a trip to the other side of Alston, starting from Allendale. I've wanted to ride the lanes over there for a while and this was my opportunity. I didn't fancy setting off early in the morning in the dark and trying to find fuel in Allendale so I took the bike in the van to the starting point. On the way, I found the conditions were getting colder the further inland I went and approaching Allendale, there was one junction where it was gently snowing with snow lying on the ungritted sections of road.
I managed to get there on time and eventually everyone was ready to set off. Everyone left apart from me and one other, I was playing my tail gunner role since I had a copy of the route. It was quickly clear we wouldn't be going anywhere whilst Stewie's chain was lying on the ground. Stewie has a reputation for breaking chains but not getting away from the van is a new record. Eventually the others noticed we weren't there and came back and we managed to get the chain repaired. We were off, really this time.
I have a reputation of not doing so well on ice covered tarmac so I'd decided I was going to take things very carefully. I was on the YZ which isn't really the ideal bike for those kind of conditions having too much power and totally knackered tyres (a dead mousse distorting the front and no tread on the back comparatively speaking). Sure enough as soon as we'd done the first lane we were onto ungritted country roads covered in a thin layer of sheet (black) ice. There was one nasty off camber T junction covered in ice which I did not enjoy at all. Coming around a corner I then found a piece of road with a couple of tight turns over a bridge, all covered in ice. This would have been bad enough (but manageable) but one of the group was lying in the road, as was his bike. Thankfully I wasn't carrying much speed but even then there wasn't any chance of stopping on the ice, or steering around the obstacles. At this point it helps to remember the kind of vehicle and its capabilities. I quickly concluded my only chance was to ride onto the 12″ strip of verge between the road and the wall and whilst that was covered in snow and heavily banked and undulating, chances were I would have enough traction to stop. Thankfully this proved correct. Ben got himself and the bike upright and we set off again. At this point I went past a couple of the group stopped halfway up a hill. There was too much ice around for me to fancy stopping too. I spent the next couple of miles of tarmac going slowly wondering where they were but they caught me up just as we found the rest of the group.
At this point I realised we were approaching Alston and were onto some trails I know. I only ever seem to see these ones in winter when they're covered in ice and they're heavily rutted making riding an interesting challenge. Rather than head into Alston, we bypassed it and did an interesting piece of trail which included a steep uphill section. Unfortunately one of the group was stopped half way up which meant everyone else had to stop. That person decided not to attempt the near vertical climb at the top and let someone else take the bike back down and take it at speed. I decided to just attempt it from stationary at the half way point which proved tricky and resulted in stalling the bike multiple times. The rear tyre's condition wasn't helping as it was just slipping. I was wary as the exit was onto a road with a parked car in the path if you applied too much speed/power. The first attempt ended up with the front wheel up, only to have the bike slide backwards back down it with me unable to grab the back brake, only keep the front locked solid which isn't a fun experience. I made it on the second attempt.
After the next trail, the group had disappeared. My GPS appeared to indicate the route was left so I followed it, only to realise I was heading in the wrong direction and the tracks were confused on the map. I turned around and found two group members looking for me. One U turned and headed back the way they'd come, the other continued past me. I sat in the middle and wondered what the heck I was supposed to do! We go that sorted out and found the rest of the group but I missed out on one of the trails. We then arrived in Alston and refueled. We were still on trails I'd done before but not for a long time. We wound our way up to Hartside Cafe, beyond which I've never ventured on green lanes. On road bikes, this marks the point the entrance to the Lake District and I've been there many times on tarmac though. We started down some very interesting lanes. There were a lot of muddy ruts and I was having a lot of difficulty keeping the YZ going in a straight line at any kind of speed.
We came across a group of horse riders (on tarmac) and slowly followed for a while until they pulled over onto some grass at a junction. The rest of the group went through but I was slightly behind having had trouble restarting the bike after stopping. As I approached and was about to pass, going slowly since I know how tricky these situations are, one of the horses reared up and set off down the road. I came to an instant stop despite the ice patches and waited as the rider controlled it and brought it back to the grass. At this point the horses were clearly getting nervous and it was spreading between them but I was able to carefully but quickly get off up the road past them, hopefully allowing the situation to diffuse. I can see these issues from both sides and I hope the horses/riders weren't too upset.
Next up was a road with a sign about a ford being washed out and impassible. To us this was interesting, we'll see. Upon arrival, it was clear there was a *lot* of fast moving water going through the core channel and it had been roped off with warning tape. We couldn't see any indication of depth and some of the group thought it was possible but I was of the opinion it was too deep/fast and after some discussion we reached that consensus. It'd be interesting to see it in summer.
Periodically, Ben's bike was cutting out, likely due to the cold and some form of carb icing type effect. It was frustrating as he'd have to sit for a while, then the bike would work just fine again. It was also proving a pain to kick start. I can sympathise with this after experiencing how draining kick starting the CRM was when I first started. At one point he'd dropped it in the mud and couldn't get it started and was obviously worn out so I gave it a go whilst he recovered a bit. It started first kick, I know how annoying it is for someone to do that :/.
At the end of one lane, we had a bit of confusion over the exact route to take with it turning out to be a drop down a hill, over a tiny stream, then through a much deeper ford crossing. On the drop, I managed to get a large tree branch stuck between the mud guard and the front wheel for which I had to stop and disentanhgle it. This isn't simple on a steep slope but I eventually managed. I only saw the last member of the group going through the ford but it was clear Ben had fallen in. I was given several pieces of conflicting advice about the best route over including mention of a large piece of old road which may or may not be in certain bits of the river but wasn't visible from where I was on the other side. Great. I set off through and about half way, it was clear I was riding on a piece of flat slab (old roadway?). So far so good but they'd said there was a problem? Sure enough, all of a sudden it became cracked, pointing upwards and then stopped with a deep drop (1ft+) off the end. At this point I accelerated a little and attempted a small jump off the end, as best as is possible off a slime covered piece of rock in water. Thankfully the bike then landed upright in the properly deep water with both wheels and I could quickly power out the river. Apparently Ben had attempted something similar but had lost balance coming off the slab, needed to put a foot down and slipped off. Far too easily done. We emptied out the drowned bike, then towed it to get it started.
We then had to stop in a village and wait whilst once again Stewie had to repair his chain. By this point we were running well behind schedule due to the stoppages and general slow progress made. There were some lovely relatively unused lanes we passed through. One memorable moment was coming to a shear decent, probably only a couple of metres in height which took some nerve to plunge the bike over. Again I was cursing the condition of the tyres on the muddy bits and couldn't carry any speed.
By this point time was against us as it was going to be getting dark. There certainly wasn't time for a lunch stop and we pressed on. We winded over the A686 (heads to Alston) taking some interesting lanes although I was still fighting tyres and going slowly. We then went up a trail that leads to hardside cafe which I've heard of but never done. I think I made the biggest hash of it I'd made all day, being unable to get traction anywhere even vaguely muddy. I ended up stalling and having to drop the bike into ruts to find stone to get momentum up the hillside. There is a steep climb at the side of the trail here and one group member did attempt it but only got halfway. The trouble then is getting back down safely. I decided not to bother given my experiences so far that day (and experiences of steep climbs going wrong on other occasions).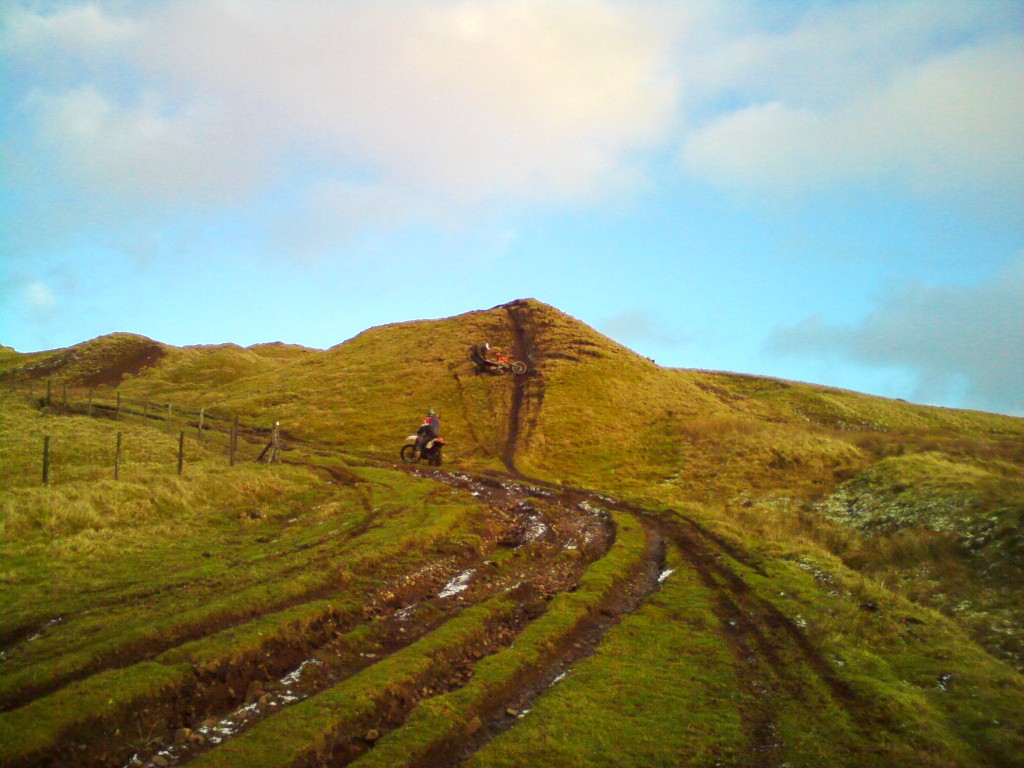 We then headed over to Garrigill at which point I hit reserve fuel (eek!). I did warn the rest of the group and thought Alston for a top up might be wise but Steve thought we'd make it back ok (he and another group member hit reserve too). We took the road over the top to Nenthead. I know this road well for various reasons and know that if there will be snow/ice anywhere, its on this road (17th highest road in Great Britain). Sure enough the whole thing was sheet ice. Making it the hill was bad enough. Once at the top, you then have the problem of getting down the other side. The only way I could do it was on the verge, being very mindful of the deep holes and drop offs (up to 6ft) in the verge. I was surprised to make it down there without some kind of incident, I was going very slowly/carefully. Apparently Steve did drop his bike at one point (I didn't for a change!).
There was one more lane and then it was tarmac back to Allendale. At this point I ran out of fuel entirely. Thankfully Paul came back to look for me when I disappeared and using a water bottle, I was able to share some of his fuel, enough to get me back to the van. Meanwhile, Stewie had also run out and was towed the last couple of miles.
Despite the issues, it was a great day out, one of the days I'll look back on with fond memories. I really enjoyed it and look forward to exploring more trails in that area when there is a bit more daylight.